Guess What's Beating the Nasdaq?
May 30, 2023 at 17:05 PM EDT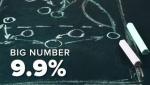 Active management aims to navigate trends as they emerge—and fade. We believe an active, dynamic approach to portfolio management can provide investors the potential to capitalize on emerging market opportunities and shift away from asset classes and sectors as their prospects for outperformance fade. For example, consider the recent performance of two very different segments [...] The post Guess What's Beating the Nasdaq? appeared first on ETF Trends .