Are Low Vol ETFs Suddenly Exciting?
June 16, 2022 at 17:11 PM EDT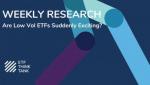 It's been difficult to stomach the recent market action. Unless red is your favorite color and wild price volatility your thrill, this hasn't been an easy market to navigate. We look at data and seek historical precedence to keep price action in perspective, but we also lose sleep and panic as...