Does Your Portfolio Need Exposure to E-Commerce Innovation?
May 31, 2022 at 12:56 PM EDT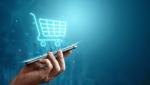 On the back of stimulus payments in the U.S. in early 2021, online purchases surged by $8 billion, and global online retail sales for 2021 grew 27.6% and totaled a record $4.3 trillion, according to Goldman Sachs. Even as brick-and-mortar retailers have reopened around the world, customers have...