Is it High Time for Asia High Yield in Your Bond Allocation?
April 25, 2022 at 17:40 PM EDT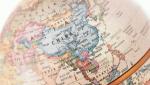 Want to boost your bond allocation? The Asian debt market boasts strong corporate fundamentals, high economic growth, and low currency risk. That makes it an attractive, uncorrelated potential source of both income and price appreciation. That will hold true even as Fed rate hikes leave U.S. high...