Can Global Real Estate Fund Inflows Keep Coming in Q3?
July 29, 2020 at 13:06 PM EDT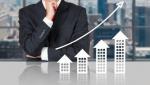 Low rates all around the globe might not be doing fixed income investors and favors, but for real estate investors, it's a great time to invest in properties via financing terms with low interest rates. Another byproduct is an influx of investment capital into global real estate funds. "Real estate...