Could Gilead News Be Good For Biotech ETFs?
June 24, 2020 at 14:48 PM EDT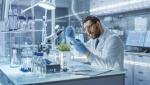 In a sea of red stocks on Wednesday, as fear grips markets due to another spike in coronavirus cases throughout the country, Gilead Sciences is one of the few bright spots in the stock market. Gilead Sciences released news yesterday that for $275 million, the company will acquire a 49.9 percent...