Is Gold Looking at a Considerable Drop Ahead?
June 03, 2020 at 10:47 AM EDT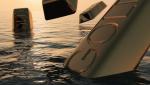 Is the party over for gold? After investors flocked to the precious metal amid the pandemic sell-off, hopes on the economy reopening are feeding a risk-on sentiment again, which could prove to be a challenge for gold prices moving forward. "We continue to think that positions are too crowded and...