Will Gold Surpass the $2,000 Per Ounce Price Level?
April 16, 2020 at 11:00 AM EDT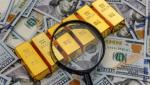 The rise of gold this month is anything, but an April Fool's Day joke. Gold is up 11%, which is its best month since 2011 and is eyeing the $2,000 price level as the world continues to deal with the invisible enemy known as the coronavirus. "I love gold, and you need some in your [...] The post...