Are BBB-Rated Debt Risks Still a Concern in Bond Markets?
December 26, 2019 at 11:59 AM EST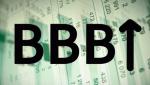 Summer volatility spurred activity in the bond markets, but BBB bonds, the lowest of investment-grade bonds, is one looming risk that could still linger in 2020 or could it? BBB bonds comprise almost 50% of the investment-grade bond market and a lack of liquidity could leave BBB bond investors...