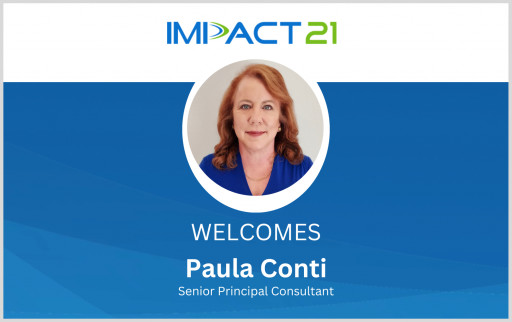 Paula Conti, Sr. Principal Consultant

Impact 21 Welcomes Paula Conti

LEXINGTON, Ky. - January 19, 2023 - (Newswire.com)


Impact 21, a retail consulting, analytics, and services company, announces that Paula Conti has joined the team as a Senior Principal Consultant. Conti brings abundant value to Impact 21 with her strong knowledge in strategic planning, financial accounting, ERP systems, process improvement, change management, and project management. 

"We are thrilled that Paula has joined Impact 21. We know our clients will benefit from her extensive knowledge in fuel wholesale and convenience retail accounting and software implementation and training, along with her proven track record as a strong leader," says Scott Burchfield, Impact 21 Chief Operations Officer. 

With more than 28 years of experience in the convenience store, wholesale fuel, and logistics industry, Conti has a passion for helping companies succeed. She has served in numerous senior level positions including Senior Sales Executive, Senior Sales Engineer, Vice President of Customer Services and Training, as well as Owner/Chief Financial Officer of CK's Convenience Store/Cajun Kitchen and Bon Appétit Catering.
"I'm excited to join the Impact 21 team. I look forward to sharing my dedication to mentoring people and continuing my work in helping companies become the best they can be," said Conti.
In prior roles, as Senior Sales Executive and Consulting Manager at Professional Technologies (PDI), Conti mentored new implementation specialists and consultants on industry business practices and software functionality and worked with customers to develop ROI and implementation strategies. She performed business reviews for customers, guiding them on efficient use of technology and created and conducted training classes, including at the annual PDI Users Conference. Previously as Director of Customer Services, Conti held the role of Project Manager for several strategic customer implementations including 7-Eleven, Murphy USA, and Kroger Grocery stores and interfaced with FuelQuest, AutoGas, and Radiant project teams.


Contact Information:
Diane Frechette
dfrechette@impact21.com
248-635-1455


Press Release Service by Newswire.com

Original Source: Impact 21 Welcomes Paula Conti as Senior Principal Consultant