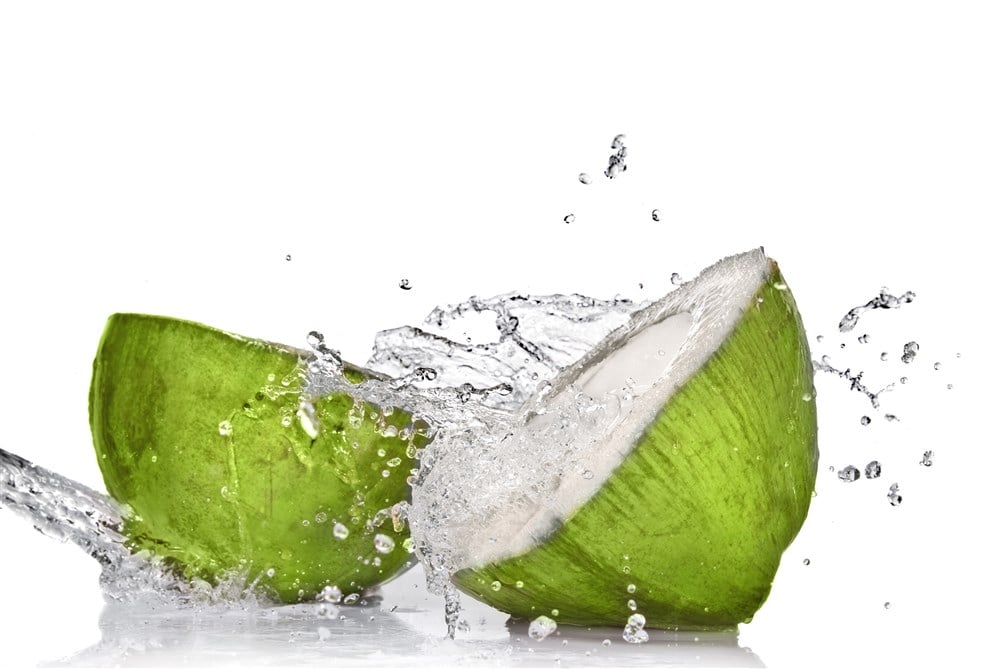 You could think of Vita Coco Co.'s (NASDAQ: COCO) coconut water as a beach vacation in a box. 
The company, which went public in October 2021, markets its coconut water in several flavors, and also sells coconut milk and coconut juice. 
Its other brands include Runa, a plant-based energy drink; Ever & Ever, a sustainably packaged water; and PWR LIFT, a protein-infused fitness drink. 
It also supplies private-label products to key retailers in the coconut water and coconut oil categories, and has a deal with Diageo plc (NYSE: DEO) for a canned, ready-to-drink cocktail, Vita Coco Spiked with Captain Morgan rum. That product launched in early 2023. 
Price-Performance Leader In Competitive Industry
The stock is one of the leaders in the very competitive non-alcoholic beverage industry, whose other components include Celsius Holdings Inc. (NASDAQ: CELH) and Monster Beverage Corp. (NASDAQ: MNST), in addition to more traditional companies like Coca-Cola Co. (NYSE: KO). 
Several larger companies within the beverage industry compete with Vita Coco in various product categories. 
The company has been profitable for years, even before going public, although earnings declined last year. The company attributed that decline to higher transportation costs and costs associated with a full year of being a public company. 
In filings, Vita Coco says it expects per capita consumption of natural beverages to grow as consumers' tastes change. Specifically, they are becoming more interested in plant-based alternatives and health-conscious products with fewer added sugars and artificial ingredients. 
The three-year revenue growth rate is 17%. Revenue increased in each of the past eight quarters.
Eyeing Low Double-Digit Sales Growth
When the company reported second-quarter results on August 2, it offered full-year guidance that included:
Net sales growth of approximately 10% to 12% over last year. 
The company is basing that forecast on the growth of its best-selling product, Vita Coco Coconut Water growth. 
It expects gross margins for the remainder of 2023 to improve relative to the second quarter. It sees full-year gross margins in the range of 35% to 37%, reflecting improved transportation costs, branded pricing, and some weakness in its private-label business.
Earnings in the most recent quarter came in at 31 cents a share, up sharply from 2 cents a share in the year-ago quarter. Revenue grew by 21% to $139.7 million.
Let's pause there: That's clearly a small, but growing, company. The company is in an ideal spot, as it's a newly public company in a fast-growing industry. 
In addition, it's a small company whose market capitalization is just $1.542 billion. 
Young Companies Often Poised For Big Gains
All those facts can add up to good news. Young companies that have gone public in the past few years are often among the market's best price performers. Vita Coco stock has posted the following returns:
1 month: 12.04%
3 months: 13.19%
Year-to-date: 99.93%
That's outperforming the S&P 600 small-cap index, which is the most appropriate benchmark. 
MarketBeat's Vita Coco analyst ratings show a consensus view of "moderate buy" on the stock. 
Analysts Boosted Price Targets
After the most recent earnings report, Goldman Sachs and Piper Sandler lifted their price targets on Vita Coco. Bank of America downgraded the stock, but it increased its price target. 
Wall Street expects the company to continue building on strong earnings growth in the past two quarters, with full-year net income coming in at 70 cents a share. That would be an increase of 404%, not something you see very often. 
Next year, analysts expect the company to earn 74 cents a share, an increase of 5%.
The Vita Coco chart shows the stock has been in a cup-shaped base since June. It briefly cleared that consolidation following its earnings report but pulled back again. It regained its 50-day average in heavy volume on August 7 and has been trading along that line since then. 
For now, the stock is a viable watch list candidate as it could very likely be setting up for new gains. Watch for it to clear resistance above $30.88.