Polestar Automotive Holding UK PLC (NASDAQ: PSNY) is an electric vehicle (EV) maker headquartered in Gothenburg, Sweden. Shares are finally breaking out of a seven-month-long weekly descending triangle pattern driven by its record quarterly vehicle deliveries recorded for Q2 2023.
In comparison, Polestar delivery estimates for 2023 bests competitors  Rivian Automotive Inc. (NASDAQ: RIVN) at 50,000, Fisker Inc. (NYSE: FSR) at 34,000 and Lucid Group Inc. (NASDAQ: LCID) at 10,000 deliveries.
It's miles behind the EV juggernaut Tesla Inc. (NASDAQ: TSLA), which expects 1.82 million EV deliveries in 2023. Polestar originally expected 80,000 vehicle deliveries but lowered that number after software issues delayed its launch of the Polestar 3 electric SUV.
The Family Tree
If you're wondering how Polestar has been able to deploy such manufacturing capacity so quickly since launching in 2017, it's because Polestar is a subsidiary of Volvo. Volvo is 80% owned by Chinese automotive giant Zhejiang Geely Holding Group Co. Ltd, Geely Automotive out of Hangzhou, Zhejiang, in China.
Geely operates many brands and subsidiaries worldwide, including Volvo, Polestar, Lotus, Zeekr, Smart, London Electric Vehicle Company (LEVC), Geely Galaxy, Proton, Livan/Maple, Geometry, Lynk & Co. and Radar Auto. Polestar's EVs are manufactured at the Volvo Cars Factory in Chengdu, China.
While Polestar shares many of Volvo's suppliers, it has its independent design team. The company is building a new factory with Volvo in South Carolina. It's scheduled to start production in 2024 with the capacity to manufacture up to 300,000 EVs annually. Volvo will also be producing its EX90 EV there.
Simple Model Simple Design  
Unlike most car manufacturers coming up with clever names for their vehicle models, Polestar makes it simple and easy to remember their models, which are called Polestar 1, Polestar 2 and the (delayed) Polestar 3.
The simple names align with the design of its cars, embracing Scandinavian minimalism expressed through clean lines, high-quality materials and elegant interiors.
Its Polestar 2 has a starting MSRP price of $55,850 with a dual motor, all-wheel drive line for a 260-mile range powered by 300kW/408 horsepower. It can be upgraded to 350 kW/476 horsepower, going 0 to 60 mph in 4.2 seconds.
Edging Closer to Profitability
On May 11, 2023, Polestar released its first-quarter 2023 results. The Company reported a GAAP earnings-per-share (EPS) loss of 1 cent, beating analyst expectations by 5 cents. Revenues rose 20.7% YoY to $546.02 million, missing estimates by $63.68 million.
Vehicle deliveries grew 26% YoY to 12,076 in the quarter, and grew its five-year total production to over 100,000 units across 27 markets. The company is intensifying its focus on cost management, including a global hiring freeze and a 10% reduction in headcount.
Polestar CEO Thomas Ingenlath commented, "We are taking necessary steps to strengthen Polestar soon. While production of Polestar 3 will now start in the first quarter of 2024, the successful launch of Polestar 4 last month means that we will add two strong offers in the attractive electric SUV market in 2024. I am confident we will deliver on our growth ambitions and path towards profitability."
Record Deliveries in Q2 2023
On July 6, 2023, Polestar revealed its best quarterly deliveries in Q2 2023. Deliveries rose 36% to 15,800 EVs. CEO Ingenlath expects the momentum to continue for the rest of the year for a seasonably stronger second half of 2023. More than 20 permanent Polestar Spaces showrooms are expected to open soon.
Citigroup resumed coverage with a Neutral rating and a $5 price target. 
Polestar analyst ratings and price targets are at MarketBeat.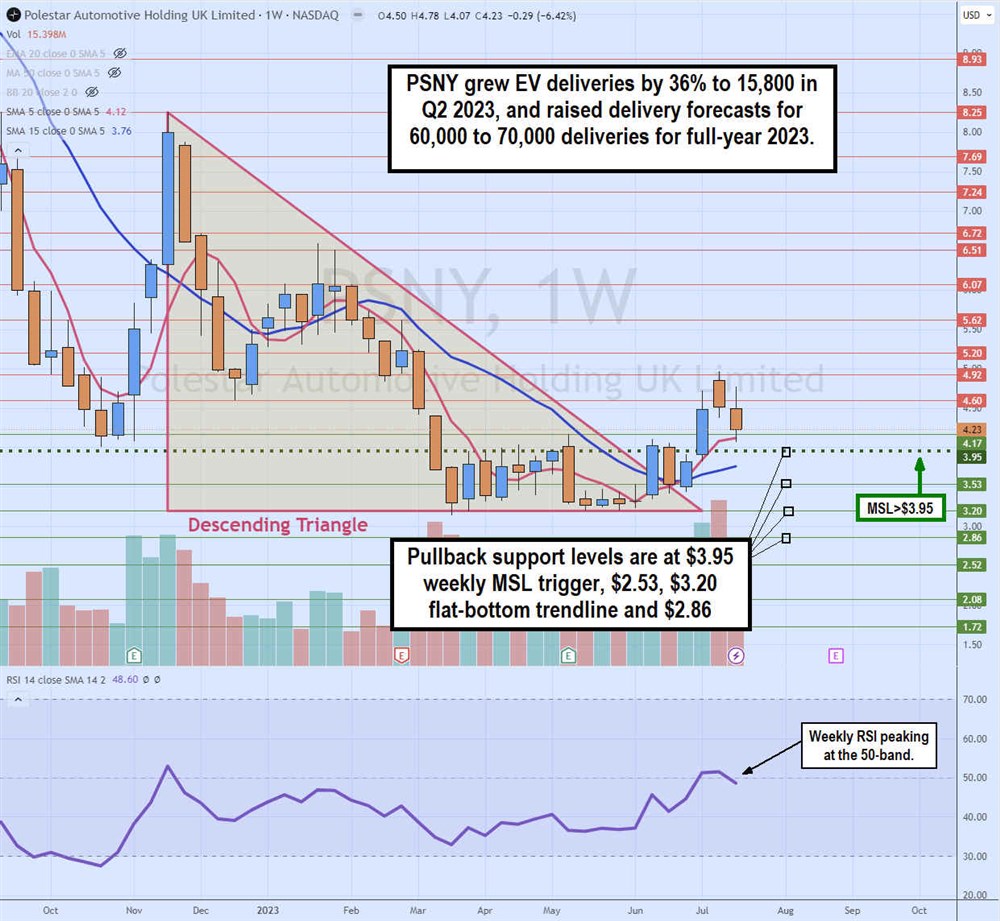 Weekly Descending Triangle Breakout
The weekly candlestick chart on PSNY depicts a breakout out of the bearish descending triangle pattern. The descending triangle commenced in November 2022 after peaking at $8.25 and falling to $3.20 in March 2023. Each rally attempt continuously faded at a lower high to form a descending trendline.
Meanwhile, PSNY continued to hold support at $3.20 to form a flat-bottom horizontal trendline. As PSNY moved closer to the apex, it finally triggered a breakout in June 2023 through the $3.70 resistance to proceed to extend the breakout through the weekly market structure low (MSL) trigger at $3.95 as shares rallied up toward $4.95 before peaking in July 2023.
The weekly relative strength index (RSI) rose to the 50-band before starting to stall and possibly fall. Pullback support levels are $3.95 weekly MSL trigger, $2.53, $3.20 flat-bottom trendline and $2.86.