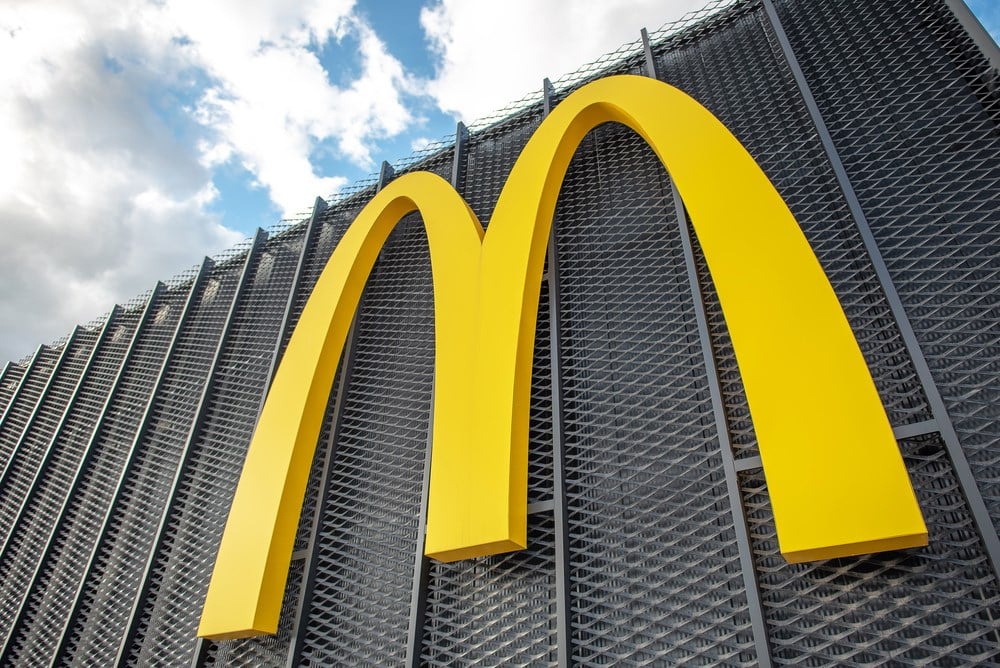 McDonald's Corporation (NYSE: MCD) stock continues to move higher after a March that saw MCD stock climb approximately 7%. In mid-March, the stock broke above its 10-, 20-, and 50-day simple moving averages and began to move higher.  
One catalyst for the stock may be some recent price target upgrades. The consensus price target of analysts tracked by MarketBeat is around $290. But the three price target increases the company received in the last month are all above the consensus. This suggests the company may be getting ready to beat expectations for its first quarter earnings report due in late April. 
Investors may also be reacting to news that the company expects to announce layoffs among its corporate office staff as early as this week. But at a time when bad news is good news, that may also be a catalyst for MCD stock. And although the stock is still a favorite among buy-and-hold investors, it needed something to get the stock moving.   

A Much-Needed Breakout 
McDonald's was a lesson in patience for investors in 2022. The stock didn't perform horribly in 2022. In fact, MCD stock was down just 1% for the year, which outpaced the broader market. Although revenue dipped slightly in the last two quarters of the year, McDonald's still enjoys one of the strongest profit margins in the industry. And that shows up in the company's earnings numbers which continue to be strong, with the forecast for this year to be more of the same.  
But until the last quarter of 2022, institutional investors were doing more selling than buying and, quite honestly, they weren't doing much of either. That changed in the fourth quarter of 2022 when institutional buying of $11 billion far outpaced selling of $1.8 billion. Not surprisingly, MCD stock rallied nearly 20% in the last quarter of the year. And there may be more to come.  
The consensus estimate of analysts is for the company to deliver earnings per share (EPS) of $2.27 which would be in-line with the same quarter in 2022. At a time when many are expecting an earnings recession to take shape, a result like that would be bullish for the stock. 
Anticipated Layoffs Forthcoming 
In January, McDonald's chief executive officer (CEO) Chris Kempczinski told analysts and investors that he was expecting to make "difficult" decisions about the company's corporate staffing levels. At that time, Kempczinski said the news would be made to make the company more "dynamic, nimble, and competitive."  
That time seems to be at hand. McDonald's is shutting its U.S. offices from April 3 through April 5 to facilitate virtual communication with corporate employees about the intended layoffs. The move is being seen as a pre-emptive strike for the fast-food giant as layoffs are moving beyond Silicon Valley to manufacturers. And with many analysts now expecting a recession to occur in the second half of 2023, this move may be seen as the company making a move to cut jobs now so they don't have to do it later. 
Investors May Get a Pullback 
There are many reasons to be excited about investing in MCD stock, but now may not be the right time. The relative strength indicator (RSI) is now above 70. Typically, when this number gets above 70 it indicates that a stock may be overbought.  
But what about existing investors? With a price-to-earnings (P/E) ratio of over 33x, McDonald's stock is not cheap even if it continues to deliver as expected earnings. But that earnings growth, which is expected to be around 8% over the next five years, outpaces the dividend growth which is about 6%. That means that the company's dividend, which has been increasing for the last 46 years, is safe. And with an annual payout of $6.08 per share, that's a good reason to hold unto the stock.