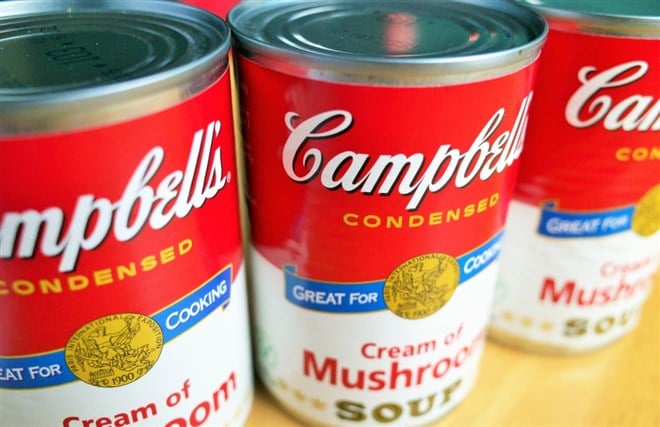 Campbell Soup Co. (NYSE: CPB) was among the U.S. large caps that bucked the bear market of 2022. With defensive names in favor, the soup and snacks maker was also one of few S&P 500 stocks that finished the year up at least 30%.
But after reaching an intraday high of $57.78 shortly after Christmas, Campbell's has retreated to around $50. With investors clamoring for technology and consumer discretionary names this year, the market's appetite for less risky staples has been less than hearty.
For long-term investors, this is positive news for two reasons: 1) strong jobs data has the market re-considering the prospects for a more hawkish Fed and, therefore, the investment value of defensive companies like Campbell's, and 2) the valuation on Campbell's shares is looking mmm mmm good. 
How Did Campbell's Soup Perform in 2022?
As grocery store prices climbed higher, consumers were reluctant to shun Campbell's brands in favor of cheaper alternatives. This helped drive 10% sales growth through the first three quarters of calendar 2022. The performance was capped off by 15% top-line growth in Q3, surprising Wall Street analysts and sending the stock to within $10 of its 2016 record high.
During 2021, Campbell's benefitted from stay-at-home Americans craving comfort foods like Chunky Soup, Spaghettios and Pepperidge Farms cookies. With the company yet to report fourth-quarter results, the strong year-to-date performance has been driven by more of the same. 
Last quarter's beat came from identical 15% sales growth in both the Meals & Beverages, and Snacks segments. The relatively flat volumes showed that consumers were willing to pay more for their favorite indulgences. And with people returning to the office and full social calendars, the comfort and convenience of Campbell's products seem as relevant as ever.
Thanks to steady demand, better pricing and improved supplies, Campbell's profits have been pretty darn good too. Earnings per share (EPS) were up 13% for the first nine months of 2022 (a figure most mega-cap tech companies would have loved). 
When Campbell's reports a month from now, the Street will look for 7% earnings growth. This would represent 12% bottom line growth for all of 2022 — and cap an impressive stretch for the new leadership team. 
What Is the Growth Outlook for Campbell's Soup?
Due to its brand strength and resilient consumers, Campbell's is positioned to build off last year's success in the coming quarters. Off a strong finish to fiscal 2022 (the 12 months ended October 2022), management significantly raised its guidance for fiscal 2023.
The company now expects to grow sales in the 7% to 9% range compared to the previous estimate of 4% to 6%. Aside from price hikes, it foresees a benefit from easing supply chain constraints, allowing it to get more products on supermarket shelves. The EPS growth forecast is 2% to 5%. It wouldn't be surprising to see this brighter outlook dimmed if a deeper-than-anticipated recession unfolds.
Why Is it a Good Time to Invest in Campbell's Soup Stock?
After correcting 10% over the last six weeks, Campbell's typically modest valuation is a bit more appealing. The shares are trading at 18x trailing earnings, around 17x the fiscal 2023 earnings estimate. 
How does the trailing P/E ratio compare to packaged food and meat peers?
Kraft Heinz, Mondelez and Hershey are trading in the 30x to 40x range. In Kraft Heinz and Mondelez, trailing twelve months' earnings growth is negative, while Campbell's has produced positive earnings growth. Among S&P 500 industry peers, Lamb Weston, McCormick, Conagra and Hormel Foods also have significantly higher P/E ratios. 
From a technical analysis perspective, the stock has found key support at the 200-day moving average line. It also appears to be bouncing nicely off the lower Bollinger band, an indicator that has historically been a reliable guidepost. The most encouraging development, though, is that the relative strength indicator (RSI) is in the low 30's and moving through its 5-day average. 
Bottom line: Campbell's is executing well in a tough economic environment. These ongoing efforts to cut costs and reduce debt point to a relevant business with improving fundamentals. Sprinkle in a reasonable valuation and a good technical picture, and it may be time to scoop up some shares.