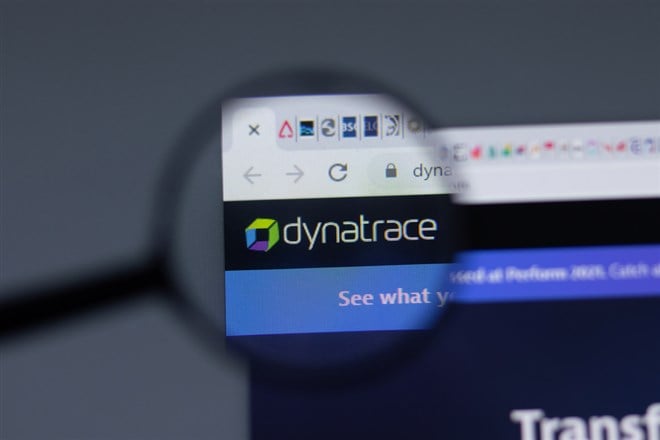 Business-intelligence software maker Dynatrace Inc. (NYSE: DT) is holding gains since its February 1 earnings report and managed to eke out a gain of 0.54% the week ended February 24, defying the broad market pullback.
Massachusetts-based Dynatrace uses AI to deliver application and digital infrastructure monitoring, as well as security services, for its enterprise customers. Its premise is to allow users to "do more with less." 
It leverages AI and other intelligent automation to help customers streamline their cloud operations and automate DevSecOps. That process allows companies to introduce software security early in the development cycle.
The company has partnered with several cloud and app developers, so its customers can integrate Dynatrace's software with systems they are already using. Cloud and tech partners include Amazon.com Inc. (NASDAQ: AMZN), Alphabet Inc. (NASDAQ: GOOGL), Microsoft Microsoft Corporation (NASDAQ: MSFT), IBM Corporation (NYSE: IBM), Oracle Corp. (NYSE: ORCL), VMWare Inc. (NYSE: VMW), and Adobe Inc. (NASDAQ: ADBE), among many others. 
Double-Digit Growth
Dynatrace gapped up 15.90% on February 1, following a better-than-expected fiscal third-quarter report.  The company reported earnings of $0.25 a share on revenue of $297.46 million, topping Wall Street views. Those marked year-over-year growth rates of 39% and 24%, respectively. 
That level of increase tends to be a hallmark of growth stocks, especially when a company has a history of strong double-digit quarterly increases, as is the case with Dynatrace. 
Analysts had forecast net income of $0.21 a share on sales of $285 million. 
For the current quarter, which wraps up in March, the company issued revenue guidance in a range between $304 million and $307 million. This was well above the $292 million midpoint of analysts' estimates. 
These gains come when Wall Street is fretting about tech revenue and earnings. Companies can turn to tech spending to cut costs in a high inflation and high interest-rate environment. This is one of the reasons why many analysts expect tech earnings to slow this year. 
In a January report issued by asset manager Allianz Bernstein, Voya portfolio managers Erik Swords and Brandon Michael wrote that it's important for investors to keep an eye on IT spending levels, as they relate to tech earnings. 
IT Projects Under Scrutiny
"Some estimates for corporate spending on IT show growth of nearly 5% in 2023. We think such numbers are unrealistic in the near term," they said. "Amid economic uncertainty, discretionary IT projects are coming under greater scrutiny and being delayed or canceled as firms choose to focus on mission-critical IT assets. We expect this trend to continue through the first half of 2023 before a potentially improving outlook emerges in the latter part of the year." 
In that context, Dynatrace's forecast is that much more impressive. 
On February 16, rival Datadog Inc. (NASDAQ: DDOG) reported fourth-quarter results that topped views, but the company's full-year guidance disappointed. The company expects revenue between $2.07 billion and $2.09 billion and adjusted earnings at $1.02 to $1.09 per share. Wall Street viewed those projections as conservative and would also indicate a deceleration of growth. 
Dynatrace's Competitive Advantage
Following Dynatrace's earnings report, Morningstar analyst Malik Ahmed Khan wrote, "In our opinion, the firm's strong execution of its land-and-expand strategy, as evidenced by its solid net retention metric, augments its competitive advantage by increasing switching costs."
In other words, the company will land a deal with a customer, then expand it with additional paid services. That's a way of retaining customers and acquiring new business more efficiently than going after new customers for all additional revenue. It also helps lock in customers who don't want the hassle of switching to another provider. 
Dynatrace shares may be in the process of forming a post-gap-up base. However, shares have been getting support along their 21-day moving average, which could also be a place to purchase or add new shares.