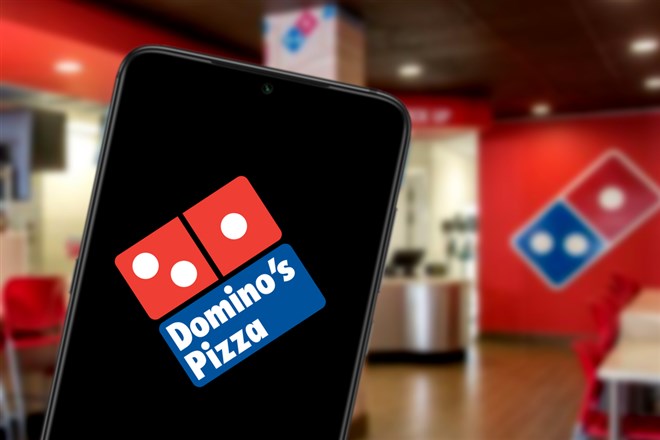 Domino's Pizza Inc. (NYSE: DPZ) stock is near a 52-week low after delivering a mixed earnings report on February 23. The company posted $4.43 in earnings per share (EPS). That was up nearly 10% from consensus estimates for $3.98 EPS. But revenue came in a little light at $1.39 billion as opposed to the $1.44 billion expected. 
On a year-over-year basis, Domino's continued a pattern of beating on EPS expectations but coming in lower on revenue. But what really had investors alarmed was the company's forward guidance. Domino's lowered it's two- to three-year sales outlook to a range of 4% to 8%. The high end is the midpoint of the earlier guidance of 6% to 10%.  
To summarize, if investors were wondering about demand destruction, they may see it from an unexpected source.  
Is Domino's Still a Safe Stock? 
Domino's Pizza has been on a great run for the last 15 years. It's been one of the safe stocks for investors. DPZ stock is up 962% since January 1, 2007, not including the company's dividend. That currently pays out $4.40 annually and has been increasing for the past 10 years.  
But investors in the market in 2007 will note that those gains didn't come without some pain. Specifically, during the Great Recession, DPZ stock dropped from $30 to under $5 a share. But the company's woes at that time had to do with the taste of its pizza. To its credit and the delight of shareholders, Domino's has made a strong pivot in the face of stiff competition.  
Something else that may give current shareholders a reason to hang on to the stock happened at that time. That is, it embraced digital technology in a way few companies were doing then. In fact, through Domino's app, the company can gather real-time data that informs its algorithmic pricing model. That model is one reason that Domino's kept the price of its Mix and Match Deal at $5.99 until late last year, when it went up by just one dollar to $6.99.  
Consumers have now become conditioned to order through the company's app. As evidence of that the company said over 1 million pizzas were ordered on Super Bowl Sunday. The vast majority of these were done through the app. 
Giving Drivers a Jolt 
Domino's is also trying to address its driver shortage in a creative way that aids the environment, as well as perhaps opening the door to a deeper worker pool. The company is buying 800 Chevy Bolt electric vehicles for delivery. It says many potential delivery drivers have a license but no car. This is one way to address that problem.  
DPZ is Expensive but May Create a Buying Opportunity 
Domino's stock is now approaching its 52-week low. And if support doesn't hold there, the stock could fall to levels not seen before the Covid-19 pandemic. The stock has a consensus price target of $370.92 with a 24% upside. But if the price fell further, DPZ stock could start looking more appetizing.  
Analysts are beginning to weigh in on the company's earnings. So far, nearly a dozen analysts have lowered their price targets for the stock. But two analysts have lowered their ratings for DPZ stock. That's not unreasonable. Domino's is an expensive stock that trades over 24x earnings even after the steep selloff.  
The stock does have a reasonable dividend yield and pays out $$4.40 per share annually. That may be enough to keep current shareholders engaged. Still, it won't likely excite investors before getting a couple of quarters of results that go against the company's guidance.