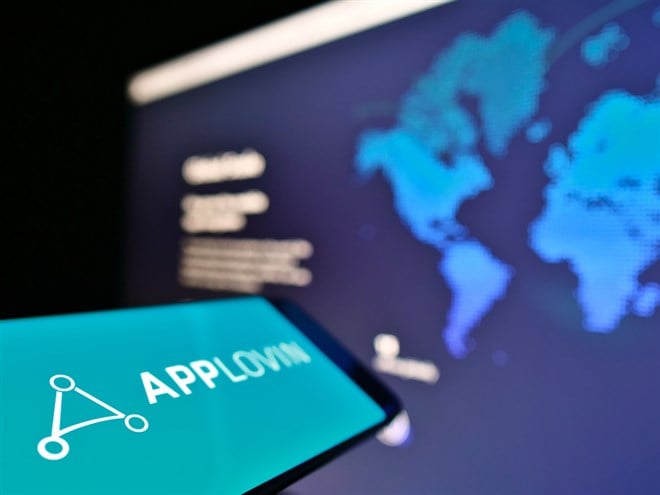 Mobile advertising and app monetization platform provider AppLovin Co. (NASDAQ: APP) stock gapped nicely on its Q4 2022 earnings release. Applovin provides app developers tools and services to grow and monetize their apps with users and advertisers. It also provides analytics and cross-promotion opportunities with its network of advertisers. Its core audience is in the video gaming segment, which has been in a slump as normalization continues, but its Software Platform is experiencing growth at a 24% clip.
AppLovin competed with Unity Software Inc (NASDAQ: U) and acquired IronSource, a mobile advertising and monetization platform which Applovin had previously attempted to acquire but lost out to Unity. It also competes with Alphabet Inc. (NASDAQ: GOOGL) Google AdMob mobile advertising platform, and Meta Platforms Inc. (NASDAQ: META) Facebook Audience Network.
Video Gaming Market Weakness
The video gaming space has experienced degradation from waning consumer discretionary spending since early 2022. High inflation and rising interest rates have been the leading causes of consumers being more frugal with their discretionary spending.
The detrimental effects have been felt by game publishers like Electronic Arts Inc.(NYSE: EA), Roblox Co. (NASDAQ: RBLX), and Take-Two Interactive Software Co. (NASDAQ: TTWO). Since the gaming market is core to AppLovin's top line, the weakness in the sector has impacted AppLovin's top-line decline.
The Company had 2.9 million active monthly users generating $44 average revenue per user (ARPU) in Q3 2021 during the post-pandemic heyday before normalization. A year later to Q3 2022, AppLovin users fell to 2.1 million and ARPU dropped to $41.
The drop in traffic also hit the apps operation segment by (-14%) dropping revenues down to $134.1 million from $156.2 million. The Company is planning on expanding beyond its core gaming segment.
AXON Platform
Axon is its AppLovin's mobile marketing platform that provides various tools to app developers to optimize and grow its business. Its key features include ad automation and user acquisition through targeted data-driven marketing campaigns through various ad networks.
It offers creation tools that enable developers to custom creative design and optimize their landing page. Its performance analytics uses robust data to generate insights on the performance of user acquisition, engagement, and monetization metrics. The Company plans to release AXON 2 powered by AI technology in 2023. It is extending its marketing solutions to the connected TV space, which has a more extensive and faster-growing advertising market than mobile gaming.
Revenues Revving Back Up
On Feb. 8, 2023, Applovin released its fiscal fourth-quarter 2022 results for the quarter that ended in December 2022. The Company reported an earnings-per-share (EPS) loss of $0.21, missing consensus analyst estimates by $0.26. Revenues fell 11.5% year-over-year (YoY) to $702.31 million, beating analyst estimates of $690.38 million.
Adjusted EBITDA grew 17% YoY to $259.6 million. Its Software Platform grew 24% YoY with 60% EBITDA margins to $306 million, while its Apps segment saw a 28% drop to $396 million. While revenues are down on a YoY quarter basis, the cumulative revenues for the first three quarters of 2022 were up 5.18% to $2.12 billion versus $2 million.
AppLovin CEO Adam Foroughi commented during the conference call, "So what are the business opportunities that we hear are most focused on today? Number one, the advancements in AI technologies have been incredible over the last several years since we released AXON. Well, now we're working on AXON 2."
He continued, "We're going to use some of these new technologies for release some point in 2023. We believe this new platform and upgrade to our core technology will make an immense impact on our business and for our business partners."
Raising Guidance
Applovin raised its Q1 revenue to $685 million to $705 million versus $677.13 consensus analyst estimates. The Company expects adjusted EBITDA of $250 million to $270 million. The Software Platform segment
Third-Party Data Restriction Concerns
Before its strong Q3 2022 earning release, Benchmark started coverage on APP shares with a Sell rating and a $7 price target. Analyst Mark Zgutiwicz pointed out the risk of monetization deterioration since the platform doesn't have first-party data. There are concerns that Apple Inc. (NYSE: AAPL) and Google may continue to restrict third-party data access and targeting practices.
Notably, Apple may ban iOS probabilistic/fingerprinting practices in late 2023, and Google may implement a similar Apple Identifier for Advertisers later this year.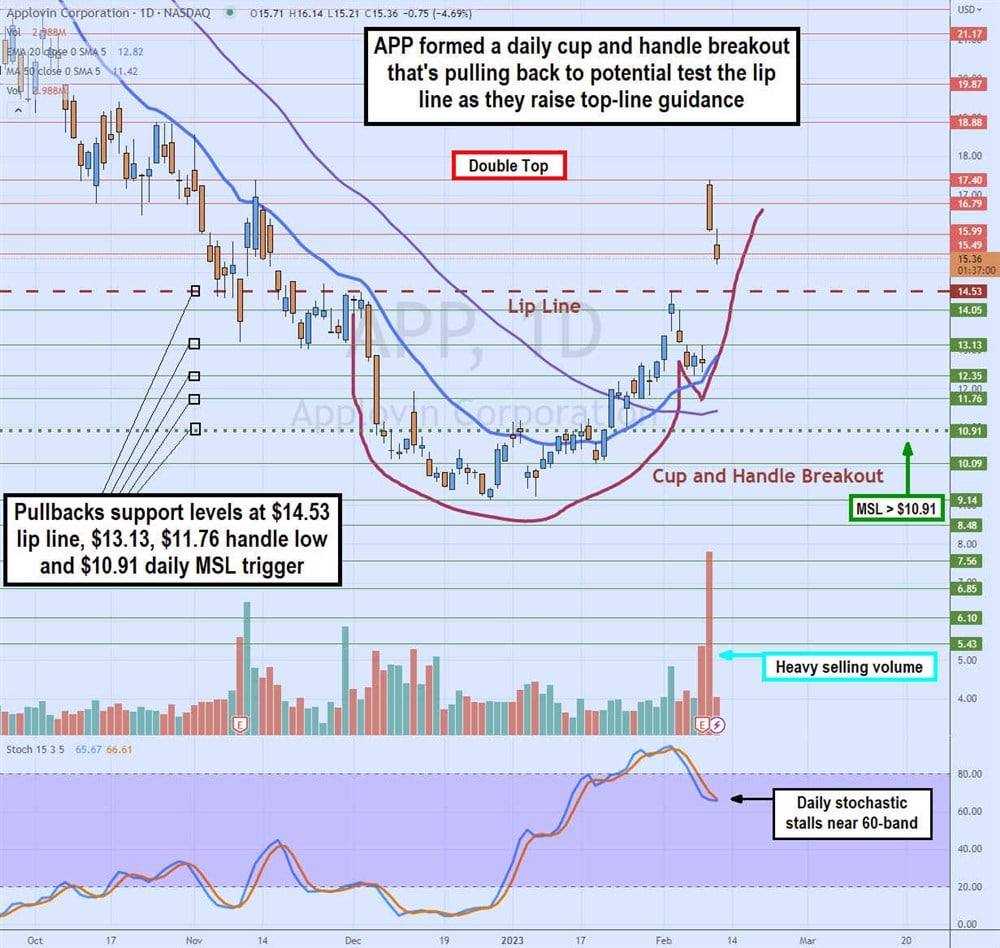 Daily Cup and Handle Breakout to Double Top
APP formed the lip line resistance at $14.53 on Dec. 1, 2022, and proceeded to sell off to the low of $9.14 on Dec. 28, 2022. It staged a rally triggering the weekly market structure low (MSL) breakout above $10.91. Shares continued higher to retest and reject the $14.53 lip line on Feb. 2, 2023. Shares pulled back to $12.35 to start forming the handle on the bounce. The daily stochastic fell through the 80-band. Shares gapped on the earnings report on Feb. 9, 2023, to peak at the $17.40 double top level on the heavy volume before pulling back. The pullback support levels are at $14.53 lip line, $13.13 gap fill, $12.35 handle low, $11.76, and $10.91 daily MSL trigger.