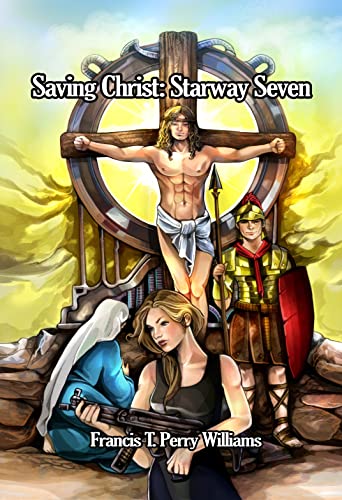 "Saving Christ: Starway Seven" by Francis T. Perry Williams has been released worldwide. This 392-page novel, which has received bestseller status as #2 in Amazon's Religious Science Fictions & Fantasy and Metaphysical Science Fiction categories, tells the story of FBI agent Jennifer Williams, the first person to travel into the ancient past to meet Jesus Christ himself.
Jennifer, a strong, competitive woman with an intense focus on her career, is selected for a special mission with potentially nefarious motivation. She is to be sent back in time to prove that Jesus actually existed – or, per the wishes of a vengeful President of the United States, prevent him from dying on the cross.
The mission proceeds as planned, but as Jennifer finds herself meeting Jesus face to face, she can't help but fall in love. Their connection blossoms, but despite her feelings and the president's orders, Jennifer learns that Jesus must fulfill his destiny, and be sacrificed on the cross for the salvation of all humanity.
In a truly unique approach to Christian fiction, the author combines elements of science fiction, political intrigue, and religious history into a compelling love story and message of faith. The story spans modern and ancient times, drawing readers into a rich world of competing values, familiar biblical figures, and the unyielding power of love. The book also includes a special message from the author: no matter who you are or what you believe, if you know Jesus, you know love.
Saving Christ: Starway Seven (ISBN: 9798886040418) can be purchased through retailers worldwide, including Barnes and Noble and Amazon. The paperback retails for $25.00.
Learn more at jctimetravel.com
From the back cover:
FBI agent Jennifer Williams will be the first person in history to be sent back in time to meet the actual Jesus Christ.
Jennifer falls in love with the most amazing person of all time.
With all her love and devotion, she tries to save him only to realize that ultimately he must die on the cross to save us all.
A tragic love story in its purest form.
About the author:
Francis T. Perry Williams graduated with a degree in drama and a minor in art and music from San Diego State University, where he wrote, directed, and acted. He's appeared in sitcoms such as Happy Days, Laverne and Shirley, Bosom Buddies as well as in the feature, Pennies from Heaven. He also wrote an episode for Laverne and Shirley. His first book, Pollen and the Ring of Harmony is about living in harmony with nature. His next book, Saving Christ: Starway Seven is about understanding the true love of Jesus. He now lives in Hayden, Idaho surrounded by nature and wild animals which he protects.
Media Contact
Company Name: MindStir Media LLC
Contact Person: Jen McNabney
Email: Send Email
Phone: 800-767-0531
Address:1 New Hampshire Ave Suite 125
City: Portsmouth
State: NH
Country: United States
Website: https://mindstirmedia.com/