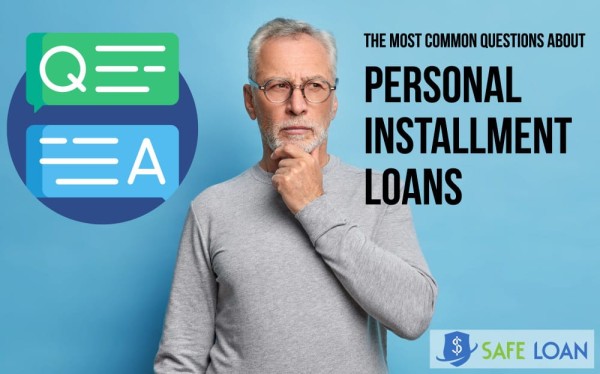 Personal loans can be a cheaper alternative to credit cards, and can help in financing any expenditures that life inevitably brings, all the while allowing to save money on interest.
Whether considering a personal loan to pay for debt consolidation, a home reparation, an upcoming vacation, or a cross-country move, it's normal to have many questions about many aspects involving taking out an Installment Loan.
To help people get ready for a new personal installment loan, Safeloan.com has compiled the most common questions about this type of loan.
What Is a Personal Installment Loan?
It is a short-term loan that is repaid over time with a fixed number of scheduled biweekly, semi- monthly or monthly installments of equal amount.
What is a Direct Lender?
Direct lenders are a good choice for personal loans that traditional banks don't want or decline. Direct lenders are much more flexible in terms and loan requirements than banks. Also, most of direct lenders are available Online
What can Installment Loans be used for?
There is no obligation on the use of these shot-terms loans. A visit to the hospital, the house or car, or to pay for a trip here are some of the most common uses for personal installment loans:
Money Emergency and unexpected expenses
To pay due utility bills
Car Repair
Medical Bills
Vision Expenses
Dental Expenses
Pets Emergency
Appliance Repair or Replacement
A/C Repair or Replacement
New Electronics
Moving Costs
Home Repairs or Improvements 
Funeral Costs
Wedding Expenses
Seasonal Expenses
Travel And Vacations
Credit Card Debt Consolidation
What is the fee for any online application?
As a reputable lender online, SafeLoan provides fee free personal loans. Hence there is no application fee. Be careful of Websites or "Lenders" that ask for application fees or upfront fees or payments to get a loan approved; It's a big red flag or a scam.
What Unsecured Personal Installment Loans Advantages are?
Undoubtedly this is one of the simplest ways to pay any expenses that people cannot cover immediately.  The following are the key advantages of unsecured Personal Loans even for people with bad credit:
Speedy Application Process
People can get a personal installment loan easily and quickly online. Simply fill out an online application and within minutes, SafeLoan will notify if the applicant has been approved for a loan.
Easy approval
Online loans typically have simple eligibility requirements. Most direct lenders accept people with any credit scores and have no minimum credit score restrictions.
Direct Money Deposit
Money will be deposited into the applicant bank account as soon as the next business day or even earlier.
No collateral is need
In the case something goes wrong, there is no risk of losing assets. Without a financial guarantee, a simple e-signature is sufficient to get money immediately.
Flexible terms
Borrowers can select the product with the most convenient repayment terms.
How much Money can anyone borrow on direct installment loans?
SafeLoan determines loan amount based on borrower's monthly income. First time borrowers can qualify for up to $1200. However, SafeLoan will reward their clients by increasing loan limit by $100 on each successful repayment.
Are Installment Loans available on weekends?
Yes! However, any loan requested on Friday after 6:00 PM EST will be processed on the next business day which is usually Monday- unless it is a holiday.
How to get a direct lender installment loan?
Personal Installment Loans are as simple to secure as any other short-term borrowing. To apply for a quick loan with installment payments, the borrower needs to:
Be minimum 18 years old
Be permanent resident or US citizen
Be employed for the past three months
Provide proof of a steady income
Have an active bank account
Have a valid contact phone number and email address
Applying with SafeLoan.com Does NOT Affect applicant Credit Score in any way or form.
How Long Does It Take to Get Approved for an Installment Loan?
Almost instantly! SafeLoan will contact the applicant by phone or email within one hour of loan approval during normal business hours (Monday to Friday, 8:00 AM to 7:00 PM EST). For applications submitted after-hours, SafeLoan will contact the applicant first thing the next business day. However, due to different state and verification requirements, not all borrowers may be eligible for soft credit check and quick approval loans.
How soon can a borrower receive funds?
SafeLoan deposit the requested amount immediately after granting the approval. However, depending on the applicant bank policies, it may take maximum up to 2 days for the loan amount to reflect in the bank account. If the bank processes it fast, the borrower might access the cash on the same day of approval as well or as soon as the next business day.
Can someone with Bad Credit Apply for a personal installment loan?
Yes! Any credit score holder is allowed to apply for personal cash loan. Credit score isn't a deciding factor, as SafeLoan primarily consider the borrower's income when approving loan requests. Therefore, if the applicant can demonstrate that his income will cover the loan payment, there is no need to be concerned. 
How to Apply Quick Personal Loan?
SafeLoan simplified process provides a decision in minutes. We provide personalized service to help through the easy and quick loan process.
Easy Loan Application Form: Complete our online application, it's quick, easy, and confidential.
Fast Lender Decision: After 30 min approval process, e-sign, and complete instant bank verification.
Get Funds: Funds will be deposited into borrower's bank account the next business day.
                               

Video Link: https://www.youtube.com/embed/6ML4yygfeJI
What happens if an applicant changes his mind after taking out a loan?
If a borrower requests a short-term personal loan and then realize he doesn't need it, he can return it to before the end of the next business day. For example, if a borrower receives the loan on Wednesday, he hast time until Thursday 7:00 PM EST to return it, without any penalty.
Are there any penalties for paying off the loan early?
No. There are no early repayment penalty. It is best to contact SafeLoan.com through email at support@safeloan.com or call at (888) 320-2380, and we will start the pre-payment process. In fact, the borrower may even qualify for a refund of a portion of the loan's finance charge.
SafeLoan.com hopes this most common Frequently Asked Questions compilation list can help people in need of cash to face unexpected expenses, to understand all the aspects related to Personal Installment Loans and the easy process of getting one.
Media Contact
Company Name: SafeLoan
Email: Send Email
Country: United States
Website: www.safeloan.com