Can Emerging Markets Debt ETFs Satiate Your Yield Appetite?
November 16, 2020 at 12:30 PM EST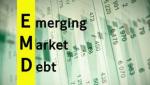 While yields might be creeping higher in benchmark U.S. Treasuries, it might not be enough to satiate fixed income investors' appetite. That said, it's a good time to seek yield in other parts of the world, such as emerging markets (EM), via the Invesco Emerging Markets Sovereign Debt...