Photo from Unsplash
Originally Posted On: https://www.intuit.com/blog/social-responsibility/he-she-they-why-pronouns-in-the-workplace-matter/
While to some, the words 'diversity' and 'inclusion' may have similar meanings, there is an important distinction between each of these words. "Diversity is being invited to the party and inclusion is being asked to dance."
Belonging is feeling like you're building a meaningful friendship with a group of people you're dancing with. Feeling that you can just be and exist as who you are without criticism or the need to defend your own identity. That feeling of belonging doesn't come easy for everyone.
Transgender and Non-binary people struggle with this form of belonging in many facets of life, including work. So what can we do, as allies, to help bring awareness around the discrimination transgender people still face in the workplace? Let's start with using proper gender pronouns at work.
What are gender pronouns?
Gender pronouns are terms people use to identify themselves and the gender they associate with. It's important to note that gender is different than sex, which is the biological status of a person, typically assigned at birth.
We use pronouns to refer to individuals in conversation. Some common examples are:
The first two examples imply male and female identities, respectively. Alternatively, They/Them is gender-neutral or nonbinary.
Gender pronouns in the workplace—and in other areas of life—help people feel comfortable and respected. It's our right as human beings to feel this way, so using proper pronouns is a crucial part of building respectful relationships.
How to use gender pronouns at work
As gender equality continues to strengthen, companies around the globe are becoming more gender expansive. Many employees in today's workplace may refer to themselves as gender fluid, non-binary, genderqueer, etc.
Employees who identify with a gender-expansive identity challenge the traditional binary use of pronouns in the workplace. The use prefixes like "Mr." or "Ms." are also changing. "Mx" has become a more inclusive form of these formal titles.
So, why are pronouns important in the workplace? Ultimately, it's a matter of respect. Just as you would ensure you call people by their preferred name, you should make it a priority to use peoples' preferred pronouns.
Using appropriate pronouns in the workplace serve as a reminder: We SEE you for who you are, how you EXPRESS yourself, and most importantly, affirming that you BELONG here at Intuit.
Why pronouns in the workplace matter
Why should we care about something as innocuous as pronouns? It's important because representation and visibility matter, especially for members of our community that may be going through a transition.
For those of us who are comfortable living our lives with the gender assigned at birth, be it male or female, navigating the world seems pretty straightforward. We go to our respective restrooms, we dress accordingly based on our genders, and we have the privilege of navigating societal norms. But this thinking leaves out some of our LGBTQIA+ community, which is why gender pronouns are becoming a big deal at work.
Those that are transgender, queer, or non-binary may often have to navigate the "gray" area, including those who may be actively transitioning. Sometimes, knowing how to address them without being offensive may be challenging.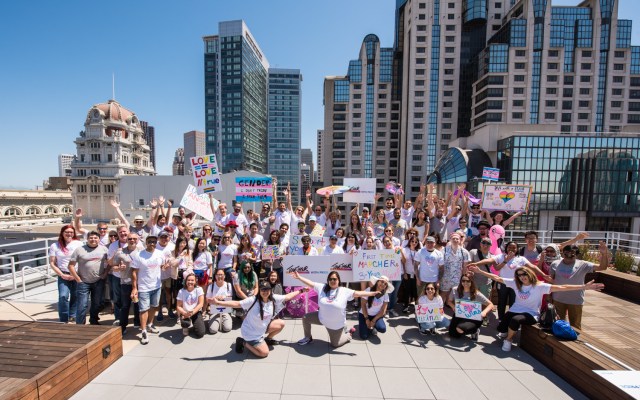 While using the incorrect pronoun for these individuals may be unintentional, it can be hurtful and demoralizing. It's the same feeling as when someone always refers to you by the wrong name.
Leading introductions with our pronouns can help start a conversation and allow folks to tell you their pronouns. Allies can help create space for our transgender and non-binary team members to share themselves safely.
Normalizing pronouns is also helpful because gender is not always visually obvious. We should never assume someone's gender.
Supporting gender at work: A case study
Intuit's Tucson Pride leader noticed the addition of pronouns on an email signature of a colleague. This inspired her, so she suggested that this practice could be leveraged by employees throughout the company.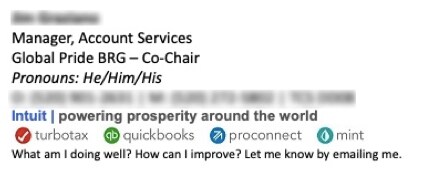 A few weeks later, another member of the Tucson Pride leadership team, discovered that employees could add their pronouns to our employee messaging system. That sparked a great conversation amongst the Pride team for all employees to be intentional with the use of pronouns and to show support for our colleagues.
In the spirit of fostering an inclusive work environment, The Self-Employed Segment Culture Club – whose charter is to fuel a grassroots movement to continually improve and refine the way we work – built the fields in Slack for pronouns and name pronunciation.
How we celebrate diversity
Intuit is a company that strives to continually innovate our products and services. In the same way, our culture is core to who we are as a company and includes how we treat our employees. This means honoring their unique identities by using the correct pronouns in the workplace and asking how we can continue to build practices that support diversity and inclusion.
Intuit's Pride Network is a community of LGBTQIA+ and allied employees that strive to innovate their approach to equality and inclusion while supporting each other at Intuit and beyond. As an employee resource group (ERG), they focus on education to eliminate stereotypes and unconscious bias, develop diversity and inclusion training programs, and organize initiatives to help ensure Pride is a global and boundaryless community.
While we're proud of the work Intuit has done as a company to support diversity and inclusion, we know our work is far from done. We believe that diversity isn't something we do—it's who we are. We'll continue to focus on diversity in the workplace and increasing visibility for underrepresented minorities to reflect the customers we serve.
As shared by Abigail Braceros, our Intuit Global Pride Advisor, "Whether you work at Intuit or any other company, everyone can help play a part in making sure all people, regardless of their gender, feel like they belong."
Intuit's mission to power prosperity worldwide is supported by our values and commitment to diversity, equity, and inclusion. A huge part of driving 'belonging' lies within Intuit's 11 ERGs. Every employee should feel like they can bring their whole self to work, feel like they belong, and do the best work of their life.