Photo from Unsplash
Originally Posted On: https://www.spektorlaw.com/when-to-hire-an-attorney-after-car-accident/
When involved in a car accident, it is best to contact an attorney as soon as possible to preserve evidence that may be useful in litigation. A personal injury lawyer understands the evidence required to win a personal injury claim and how to obtain it.
According to the New York State Department of Health, between 2012 and 2014, approximately 1,098 deaths and 12,000 serious injuries were reported in New York. Despite advancements in vehicle safety features, road design, and traffic management signals, statistics from the National Highway Traffic Safety Administration show that car accidents remain a serious public safety concern in Queens County, New York.
A car accident begins a sometimes long and arduous period of health complications and never-ending trips to car repair shops, car rental companies, police stations, and insurance companies. All of this can be overwhelming, especially if there is a serious injury involved. That is why it is critical to retain the services of an experienced personal injury attorney to help put all the pieces together and provide you with the peace of mind you deserve while recovering.
What to do after a car accident?
When involved in a car accident, it is easy to make avoidable mistakes that can be costly in the long run due to panic or a lack of knowledge about the severity of the incident. Here's what you should do after a car accident:
Don't leave the scene prematurely
It's a good idea to stay at the scene of a car accident until the police arrive. The police will assist in gathering evidence and recording initial statements from all parties involved and witnesses. If you leave the scene of a car accident too soon, there's a good chance that the initial statements recorded will be one-sided and biased against you. Even if you are innocent, leaving can imply guilt. Gather any photographic evidence you may require for the upcoming litigation while you wait for the police.
Ensure everyone involved is safe
It is critical that everyone involved in a car accident is safe. The first instinct is to save a life, so give first aid to any car accident victims who are still breathing. Some of the victims may be trapped in the wreckage and require immediate assistance. Bystanders and witnesses will also be eager to assist, so if you do not have serious injuries, seek as much assistance as possible. When providing first aid, wear protective gear and take precautions not to injure the injured parties further. Allow others to save your life if you are injured. It is also advisable to call an ambulance for medical assistance.
Call the police immediately
Call the cops once everyone has been stabilized and is safe. Emergency response teams will arrive as soon as possible. The police will, among other things, mark out the accident scene, redirect traffic, take witness statements, and process the scene.
Always leave damaged vehicles where they are until the police arrive. The location of vehicles and wreckage assists police in correlating witness statements when determining the cause of an auto accident.
Preserve as much evidence as possible
It is easy for bad weather to damage critical evidence if it is raining or there are strong winds. Taking photos of the accident scene and injuries is a great idea. Share it with the cops and make copies for yourself.
Exchange contact information with other drivers who are potential witnesses
First responders on the scene of an accident frequently provide critical information about what happened moments before the car accident. It is advisable to obtain the contact information of anyone who witnessed the car accident.
Inform your insurance company
Insurance companies prefer to keep track of their liabilities as they occur. It is critical to notify your insurance provider of the accident. They may provide preliminary advice on the best course of action to take for assistance. Your insurance company wants to keep its money as well. It is advantageous to obtain the insurance company information of the at-fault driver in order to pay for damages.
Get appropriate medical attention and keep the records properly
However, a full medical examination is recommended to ensure that there are no internal injuries or fractures. Your doctor will perform an initial examination and additional tests to ensure that you are in good health.
If you sustain serious injuries, it is strongly advised that you seek immediate medical attention. You do not have to wait for compensation to receive proper care. Some medical procedures are time-sensitive, so it may be too late. It is also critical to keep track of your symptoms and keep track of all expenses incurred during doctor visits. They will be required by your personal injury lawyer to prove your car accident claim.
Hire a personal injury attorney as early as possible
Hiring a qualified personal injury lawyer after being involved in a car accident can assist with the complicated process of filing a successful injury claim. Most personal injury attorneys assist you with gathering evidence, approaching witnesses, negotiating with liable insurance adjusters, and representing you in court, among other things.
How does a personal injury attorney help after a car accident?
According to New York law, it is entirely up to you to decide whether or not to hire a car accident lawyer following a car accident. Dealing with the police, the other party's insurance company, and other parties involved in a car accident claim, on the other hand, can be overwhelming.
An experienced car accident lawyer can guide you through the otherwise difficult process of obtaining the legal compensation you deserve. A car accident lawyer will examine your case and compile your medical bills, car repair costs, and non-economic injuries such as lost income as a result of the accident.
While it is possible to represent yourself in a personal injury claim, certain circumstances may complicate your case.
Here are some of the situations that necessitate the services of an experienced personal injury lawyer:
Assigning fault and liability after a car accident
It is critical to identify the at-fault party in a car accident. When things aren't as clear-cut, insurance companies may take advantage of the situation and trick you into admitting liability, denying you the compensation you deserve.
A qualified lawyer will assist you in navigating the lawsuit. A personal injury lawyer understands how to obtain evidence and official reports that will strengthen your case and ensure you receive maximum compensation. If your case goes to trial, your personal injury attorney will represent you.
When you are not confident with self-representation
Not everyone is at ease with lawsuits. Moments before a car accident can sometimes turn into a legal tug-of-war. Insurance companies dislike making settlements, and when they do, they offer the bare minimum.
When you are unsure about representing yourself, it is a good idea to seek the assistance of a qualified auto accident attorney. A personal injury lawyer has handled numerous cases involving personal injury claims and would gladly fight for you while you recover.
When the other insurance company refuses to pay or undervalues your claim
Insurance companies are content to pay victims of car accidents nothing for their injuries and damage. They frequently make settlement offers that are less than the actual damage. When a car accident victim represents themselves, insurance companies may exploit the situation in order to undervalue the insurance claim. They would do this while also ensuring you signed away your rights to any future claims. This is especially dangerous because some car accident injuries can manifest months or even years after the accident. Hiring a qualified personal injury attorney to assist you with the negotiations will ensure that you receive the maximum compensation.
You feel unfamiliar with the claims process
The process of filing a personal injury claim may appear straightforward at first. However, drafting a lawsuit without legal knowledge is difficult. Having a qualified personal injury lawyer who understands the intricacies of filing successful and complete injury claims will save you time and money in the claims process.
You are unsure of how to calculate the non-economic value of your injuries
Non-economic injuries include emotional distress caused by an accident, emotional trauma caused by witnessing or experiencing a car accident, and loss of self-esteem as a result of disfigurement. This damage may go undetected for years, affecting the quality of your life.
You may sustain long-term or short-term injuries as a result of an accident. Long-term and permanent injuries render you unable to work, affecting your personal finances. A personal injury lawyer will assist you in calculating the appropriate compensation to cover lost enjoyment of life as a result of lost income, based on your medical reports, lifestyle, and age.
The attorney will also know when to order a psychological examination to determine the extent of emotional damage sustained in car accidents. They will also understand how to calculate the monetary value of emotional harm in relation to treatment and its impact on your personal finances.
Your case should be handled by a professional and qualified personal injury attorney who has handled numerous car accidents and personal injury claims. They know where to go and how to approach people of interest to obtain the information they need to win a personal injury claim.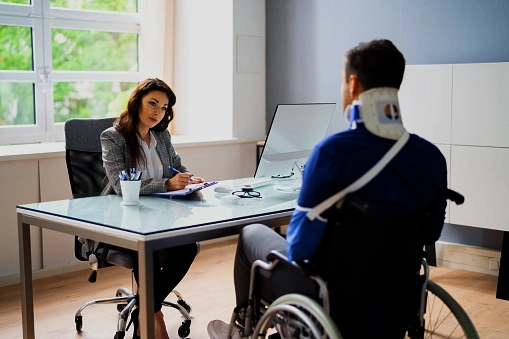 Role of a Personal Injury Lawyer
A personal injury attorney will do the following to help you get the best car accident settlement:
Investigate car accident cases
Injury lawyers understand what information is needed for successful car accident claims. When that information becomes difficult to obtain, a personal injury lawyer knows who to contact for private investigators. They can assist in locating and speaking with witnesses, obtaining police reports, and compiling evidence if the case goes to court.
A thorough investigation is critical to ensuring you have a solid case against the responsible insurance company. Evidence and witness statements will persuade them to drop the case and award you the settlement you seek. An attorney will assist you in gathering solid evidence to force the insurance companies to pay you the maximum compensation you deserve.
Beat the statute of limitations
A statute of limitations is a law that governs how long victims have after a car accident before they can file a lawsuit. The statute of limitations in New York requires car accident victims to file claims within three years of the date of the accident.
A personal injury lawyer understands what needs to be done to meet the deadline without interfering with your medication regimen or daily schedule. Hiring one is a good idea to ensure you receive the compensation you are entitled to for your car accident injuries.
Insurance companies are well aware of this. When you make a strong claim supported by sufficient evidence, they may want to buy you time and race you to the deadline, dragging the process out with endless negotiations and meetings. Your personal injury lawyer will advise you on the best way to resolve the situation.
Calculate the losses and value of car accident injuries
Before filing an official claim against the liable party following a car accident, it is critical to include all losses incurred, such as medical bills, repair costs, and other miscellaneous expenses. Losses and injuries are sometimes distributed among multiple parties, such as road contractors, safety authorities, automobile manufacturers, and government departments. Calculating and compiling all losses and damages necessitates the assistance of qualified personal injury attorneys.
Negotiations with liable insurance companies, companies, and organizations
Injury claims can sometimes involve lengthy negotiations with liable insurance companies, automobile manufacturers, and other parties. These negotiations may become time-consuming and exhausting. It is a good idea to hire a lawyer to represent you in these negotiations.
Personal injury attorneys understand when to begin, how to proceed with negotiations, and when to leave the table. When the offer is appealing, you have a good chance of getting the most out of your car accident claim. Keeping up with the negotiations is a good strategy for obtaining a fair settlement, but there are times when it is better to walk away and take a stand. Allow lawyers to do what they do best while you focus on other things.
Why should you avoid the trap of self-representation in a car accident injury claim?
It is possible to represent yourself in a personal injury lawsuit following a car accident. However, there is no guarantee of victory or proper resolution. Without prior experience with personal injury claims, you are more likely to overlook important details that could help build your case. In order to establish the validity of your injury claim, you must have detailed information about the at-fault driver, his condition at the time of the accident, his passengers, and the state of the road.
Insurance companies will take advantage of your lack of legal experience to pay you less than you deserve. They may interpret your statements as admitting fault in a car accident in order to deny you compensation. A personal injury case may appear straightforward, but because money is involved, you need a qualified lawyer.
A car accident may involve multiple third parties who are equally unwilling to accept liability. For example, a car accident may occur as a result of a fire caused by faulty electrical wiring in another vehicle. When this occurs, automakers will pile up legal defenses and offenses against anyone who attempts to bring personal injury cases against them. In such a case, self-representation against a seasoned legal team is an admission of defeat.
Negotiating settlements on personal injury claim cases with liable third-party insurance companies may also be fruitless; these companies enjoy delaying the process of negotiations and settlement awards with unnecessary meetings.
Even so, for inexperienced car accident victims, calculating total damages in self-representation can be difficult. Furthermore, court battles can be harsh, especially if you are still recovering from a traumatic event. As a result, it is a good idea to hire personal injury claim lawyers to handle your car accident injury claims.
Where to Get the Best New York Car Accident Lawyers
A car accident is not always the fault of the other party. Sometimes you are the one who is at fault. Whether you are at fault or not, you are entitled to compensation for your losses. Having a lawyer on your side will help you avoid a traumatic litigation process and secure a win for your case.
Here is where you can find the best car accident lawyer in New York;
Referrals from your friends and family
Many solutions can be found in your social circle. Ask for referrals from your friends, family, and colleagues' social circles. Even your neighbors can be of great assistance. However, be cautious when asking your friends and family for referrals because most of the time, they will simply share the contacts of their friends regardless of their expertise or experience. You will need to thoroughly vet them before hiring them.
Referrals from the hospital
Many car accident victims are treated at a hospital or nursing home. They have most likely dealt with hundreds of car accident lawyers. Do not be afraid to ask that doctor, nurse, therapist, case manager, or administrator for a referral.
Referrals from other lawyers
If you have legal contacts, they can be a valuable resource in your search for New York car accident lawyers. You may not have a lawyer friend, but you may have interacted with one in the past. Call them to get the contact information for someone who deals with car accidents.
Search on Google
Most law firms in New York and the United States have business websites that include vital information about the attorneys' qualifications, accomplishments, practice areas, location, and contact information. You can easily find the website on Google and other search engines as long as it is active. Google also displays star ratings, photos, and customer reviews. Google will help you find the best law firms in New York.
Remember to include 'car accident' in your search because lawyers specialize in different areas. You want to work with a lawyer who has handled car accidents and personal injury cases. Continue reading the reviews and answering questions on their Google My Business page, which appears alongside the search results.
Check review sites such as Yelp and Avvo
Avvo is a legal information and lawyer marketplace. You can learn about top-rated lawyers in your state. This data includes disciplinary actions, client ratings ranging from one to ten, and testimonials. Avvo rating of 10 means excellent. Gregory Spektor & Associates is a top-rated law firm in New York for communication, responsiveness, service quality, and value for money.
Yelp is another excellent review site for New York businesses, including law firms.
Check the State Bar Profile
Lawyers are certified and verified by the New York State Bar Association. This is an excellent resource for finding all of the lawyers recommended by your friends, colleagues, relatives, neighbors, healthcare workers, or Google. To learn more about a New York car accident lawyer, use the attorney lookup feature. It will display the lawyer's area of practice as well as his or her disciplinary history.
Contact Gregory Spektor and Associates, P.C. at 1 (888) 797-7735 today for a qualified personal injury claims team in Queens, NY
Greg Spektor and Associates takes pride in providing our clients with high-quality representation in a wide range of legal matters. Our dedicated team of personal injury lawyers is more than ready to walk with you from case drafting to final representation in court or settlement negotiations, with specialties in automobile accident litigation, personal injury cases, construction accident lawsuits, and much more. For a free case review, call 1(888)797-7735.