Reed Maintenance Services, Inc., a premier waste management solutions provider specializing in dumpster rentals, is thrilled to showcase a stellar testimonial from a satisfied customer. Shaun Gross, a valued client of the company, recently shared his outstanding experience with Reed Maintenance Services' dumpster rental services on its Google Business Page.
In his glowing review, Mr. Gross lauded the company's impeccable delivery of 20-yard dumpsters to three separate locations for their cleanout projects. The punctuality and precision exhibited by Reed Maintenance Services, Inc., were particularly noteworthy, as each dumpster was promptly delivered and placed exactly as specified by the client.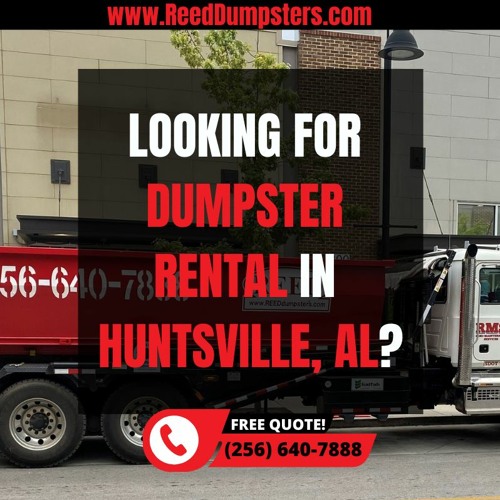 "Reed Maintenance Services, Inc. delivered 20-yard dumpsters to 3 different locations for our cleanout jobs all at the same time. They were on time at each location and put the dumpsters exactly where we requested. Their performance was very impressive. We will definitely continue to use them and recommend them to others," Mr. Gross expressed in his testimonial.
This glowing feedback exemplifies Reed Maintenance Services', commitment to excellence and its capacity to surpass clients' expectations. The company's dedication to delivering on time and ensuring meticulous service underscores its position as a premier waste management partner.
Founder and CEO of Reed Maintenance Services, Inc., Michael Reed, expressed his gratitude for the positive recognition. "At Reed Maintenance Services, we take immense pride in delivering top-tier waste management solutions. We greatly appreciate Mr. Gross's feedback and will continue to strive for excellence in every aspect of our service."
As the positive reviews continue to roll in, Reed Maintenance Services, Inc. solidifies its reputation as a trusted partner for waste management needs. The company remains committed to serving the community with unparalleled dedication, affordability, and reliability.
More of the company's customer reviews can be found here at this link: https://reed-maintenance-services-inc.business.site/
Reed Maintenance Services, Inc. specializes in offering a comprehensive range of dumpster rental options, including 20, 30, and 40 yard dumpsters. As an industry leader in waste management solutions, the company serves Northern Alabama with affordable prices and unmatched customer service. The company makes ordering a dumpster rental easy for their customers with their online booking system. Customers can visit their state of the art website, select the dumpster they need, and schedule the date and time for the delivery. Free online quotes are also possible.
For customers who are not sure of exactly what they need for their waste producing task, the company suggests calling their customer service department. A knowledgeable representative will assist those customers and help them select the right size dumpster for their project.
The waste disposal industry is heavily regulated on a local and federal level, which is why it is critical to understand what items cannot be disposed of in a dumpster. While rules vary depending on the material, there are some items that should never be thrown away in a dumpster. This typically includes tires, chemicals, car batteries, railroad ties, and any other toxic or hazardous materials, as well as materials that pose a significant safety hazard or could damage the container.

For the most up-to-date information about prohibited materials, it is recommended that customers contact Reed Maintenance Services, Inc. customer support to inquire.
https://www.youtube.com/watch?v=jBlfj3qhxb8
For more information about Reed Maintenance Services, Inc. and its array of waste management solutions, including dumpster rentals, or to schedule a dumpster delivery, visit the company's website at https://www.reedmaintenance.com.
###
For more information about Reed Maintenance Services Inc., contact the company here:

Reed Maintenance Services Inc.
Shane Withey
(256) 640-7888
shanew@reedmaintenance.com
4700 Union Grove Rd
Union Grove, AL 35175