Santa Clara, California -

Interview Kickstart, a Santa Clara, CA-based company offering career guidance services for software developers, is helping candidates level up their careers across industry domains. For more information visit https://careerkarma.com/schools/interview-kickstart/

The company offers two types of courses for candidates at different stages in their tech careers. The StepUp and LevelUp courses are designed to help experienced engineers, engineering managers, TPMs, product managers and analysts who want to get hired at FAANG and other Tier-1 tech companies across the nation. Its SwitchUp course is designed for those looking to transition into data science and AI/ML roles and seeking more lucrative opportunities within the industry by upskilling. Both types of programs offer candidates mentor sessions/mock interviews, placement assistance, and unlimited coaching sessions.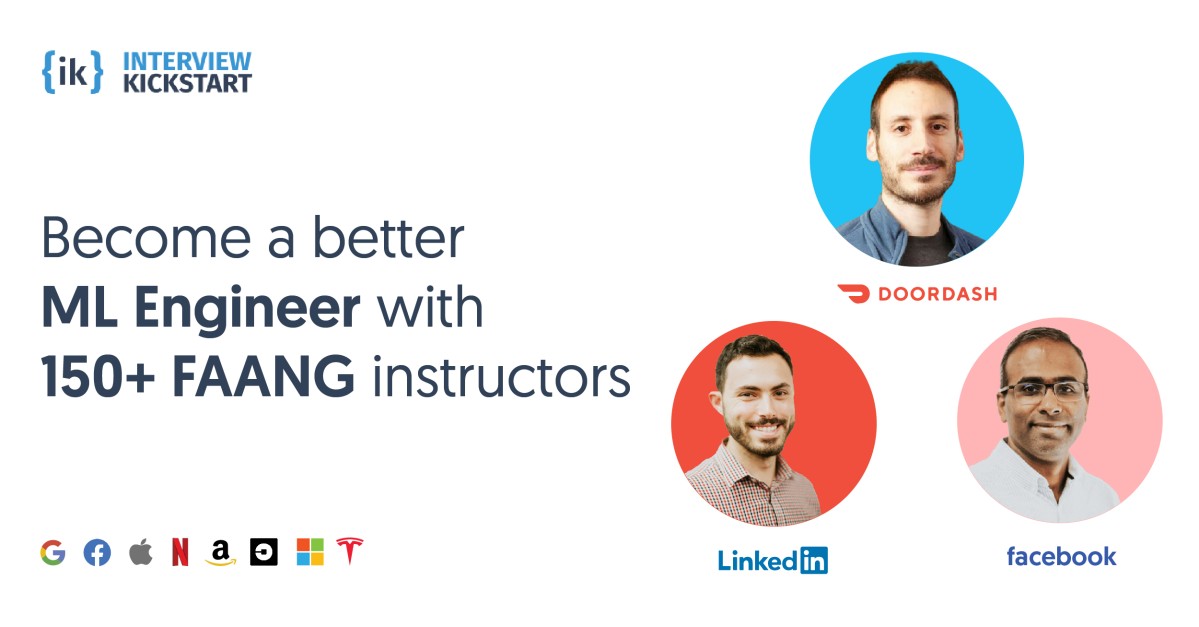 Its offerings include Software courses such as back-end engineering, front-end engineering, full stack engineering, test engineering, iOS engineering, Android engineering, and early engineering, tech management courses such as engineering manager, technical program manager, and product manager (tech), data courses such as machine learning, data engineering, data science, and data analyst & business analyst, and systems courses such as embedded systems, AWS cloud solutions architect, site reliability engineering, and cyber security.
"The courses have been designed using the input from over 500+instructors, interviewers, technical coaches, and career coaches, all of whom are hiring managers, hiring committee members, and technical leads at Google, Facebook, Amazon, and a whole bunch of other FAANG and top Silicon Valley companies", says the spokesperson for Interview Kickstart
Interview Kickstart's programs are based on its unique and proprietary "power patterns", which focus on teaching students the fundamentals of computer science rather than trying to "hack" the interview process. As a result, its students can solve thousands of the toughest interview problems designed using the same patterns, without fearing unseen questions. Students are also offered continuous feedback through their classes, sessions with individual technical coaches, resume feedback, LinkedIn profile feedback, regular timed tests, and mock interviews with hiring managers.
The spokesperson explains, "We pioneered the concept of a structured interview prep program, making us the most experienced platform to learn with. Our power patterns prepare our students to clear the high bar of 5 to 7-round coding interviews by helping them learn the fundamentals like no other interview prep program. It makes them more inquisitive and insightful software engineers, skills that poring endlessly over books promising to crack the coding interview just cannot inculcate. No other platform even comes close."
To date, Interview Kickstart has helped over 15,000 students successfully transition to the next step in their tech careers. Its students reported an average salary hike of around 66.5%, within a range of $75,000 to $200,000. The highest offer received by any of its alumni is $1.2M, with one alumnus receiving over 18 offers after completing Interview Kickstart's program.
As previously announced, Interview Kickstart's courses have received enormous praise from thousands of candidates who secured higher compensation or upskilled themselves to more in-demand tech roles. The company's successful track record is evident in its outstanding overall rating of 4.8 out of 5 with 263 reviews on its Google Business Profile and 4.82 out of 5 with 236 reviews on Course Report.
Alumna Aliya Mussina states: "Interview Kickstart's program met all my expectations. They have well selected problems to practice, good coaches, and practice interview opportunities. All the staff are very responsive and approachable; they are like family now. They guide you and give excellent recommendations every step of the way. I started the program while eight months pregnant and gave birth literally in the middle of the initial two-month coursework. The outcome depends solely on the student; the more diligent you are, the better results you get. I was able to get about 5-6 competing offers, including a couple from FAANG. I am very happy for all the support and confidence IK has given me! I joined Apple after completing the course."
Readers are urged to find out more about Interview Kickstart by visiting https://www.intelligent.com/best-online-courses/interview-kickstart-review/
###
For more information about Interview Kickstart, contact the company here:

Interview Kickstart
Dashrath Rajpurohit
+1 415-888-9207
start@interviewkickstart.com
4701 Patrick Henry Dr Bldg 25, Santa Clara, CA 95054, United States