The authors of 'Disarming The Narcissist: How to Stay Married to a Narcissistic Partner and Live a (Reasonably) Happy Life' have announced that the 5-volume collection is now being successfully used by hundreds to deal with hostile relationship scenarios.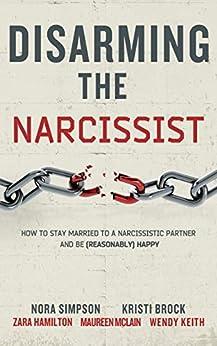 Akron, United States - September 27, 2023 —
The Amazon book, 'Disarming The Narcissist: How to Stay Married to a Narcissistic Partner and Live a (Reasonably) Happy Life' shares perspectives and advice from real people who have successfully developed coping strategies to deal with a narcissistic spouse... And note that this is only for narcissistic behavior, not physically abusive behavior. The book does not and will not advocate staying in a physically abusive relationship.
The title - actually a collection of 5 short but true stories, each by a different author - seeks to provide guidance for those who wish to make their relationship work, but feel lost or frustrated. In line with the recent announcement by the authors, the book has helped hundreds of individuals since its publication.
To learn more, visit https://www.amazon.com/dp/B071F45JQM
Across five separate stories, the authors of this 'Disarming The Narcissist' book share their own personal methods to both mitigate the problems caused by narcissism in day-to-day situations and to prevent the inevitable negative impact that being in such a relationship can have on one's own self-worth.
Specifically, the book delves into topics like how to build a support network, how to develop open and honest communication strategies, and how - and when - one should leave a relationship, if necessary. However, the main focus of the work is to encourage healthier relationships that last; not necessarily to end them.
One reader who was helped by the book's advice said, "This book is very helpful in the realization that I'm not crazy, I'm not alone, and it's okay to stay. I've been wondering if staying with my narcissist was really the best for my children and me. The ups and downs are real and everything is not my fault. It's amazing to read about the lengths other women have gone to appease their spouses."
As the review suggests, the book shares ground-level advice in the form of real stories, demonstrating how the strategies the authors have developed can be implemented in real life scenarios. For example, pursuing one's own interests and making friends away from the narcissistic partner so that co-dependency can be overcome and the non-narcissistic spouse can have some "decompression" time and stress release. Giving importance to one's own self-interests and social network is just one important way to help cope with and alleviate stress from a stressful marriage or relationship. The authors offer up many other personally tried and true examples of how they keep their lives reasonably happy, even while staying married to a narcissistic husband or to a narcissistic wife.
Additionally, the scenarios that the book explores are intended to be as wide-ranging as possible. While some of the marriages discussed in the book are decades old, some are brand new, offering readers a diverse array of angles from which to explore the material.
While the authors acknowledge that one may never be able to truly break their spouse's narcissistic habits, that is not the intended purpose of the text. Rather, they intend to encourage compromise and healing with the goal of long-term stability and relative happiness. It is also understood, however, that if physical abuse comes into play, the book can no longer advocate staying in the marriage or relationship. Physical abuse is one of the red flags that the final line has been crossed, and that it's finally time to say goodbye.
For more information, visit https://www.amazon.com/dp/B071F45JQM
Contact Info:
Name: Robert Lormor
Email: Send Email
Organization: Lormor Internet Publishing
Address: 243 Castle Blvd, Akron, OH 44313, United States
Website: https://www.amazon.com/dp/B071F45JQM

Source: PressCable
Release ID: 89108759
In case of identifying any errors, concerns, or inconsistencies within the content shared in this press release that necessitate action or if you require assistance with a press release takedown, we strongly urge you to notify us promptly by contacting error@releasecontact.com. Our expert team is committed to addressing your concerns within 8 hours by taking necessary actions diligently to rectify any identified issues or supporting you with the removal process. Delivering accurate and reliable information remains our top priority.