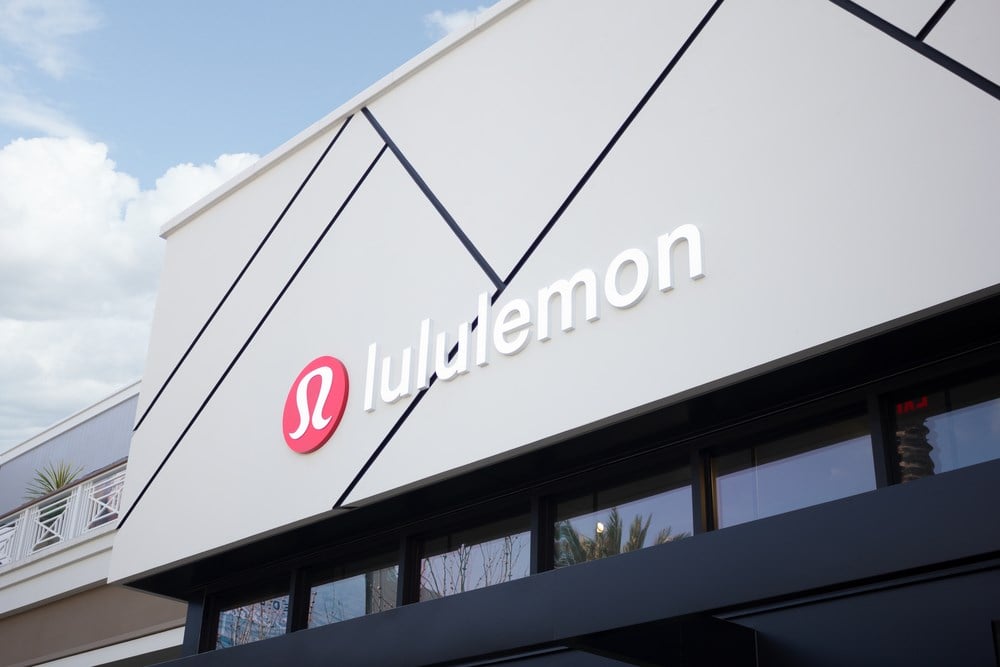 Shares of Lululemon Athletica (NASDAQ: LULU) traded higher by as much as 13% on the after-market hours of Thursday evening as first quarter 2023 Lululemon earnings results came out. The advance in the stock price comes amid Lululemon's beating earnings expectations, as it reported $2.28 earnings per share — analysts were only expecting $1.96. 
The 54% advance in earnings per share over the 12 months comes from favorable conditions for the brand, one of the few operators immune to broader industry challenges. These results enable the stock to break out of its previous trading channel between $300 and $385.
Despite being confined to its year-and-a-half-long trading channel, Lululemon stock has outperformed other names in the sector. Names like Under Armour Inc. (NYSE: UAA) have fallen behind by as much as 25% in the past 12 months of stock performance, showcasing the operational superiority of Lululemon coupled with its brand penetration. 
Even Ralph Lauren Co. (NYSE: RL), one of the few that grew sales and earnings in the first quarter, underperformed Lululemon by 6.6% during the past year. As analysts see further upside in this stock, partly backed by bullish management outlooks, investors could ride a breakout momentum into the next valuation bracket.
Double-Digits Only
Lululemon's earnings press release leads with one of the most astonishing results in the sector, announcing a 24% revenue increase over the year to end the quarter at $2 billion. As every industry has its set of key performance indicators (KPIs), the retail industry leans heavily on comparable sales, which investors and analysts rely heavily on to deduce the business's health. Unfortunately, comparable sales for Lululemon came in a bit lower, though still impressive and over most — if not all — of the other operators in the space. Sporting a 17% increase (14% after inflation), the nearly 10% discrepancy to net revenue comes from opening new stores.
In the quarterly financial supplements, management reports that the company grew to 662 locations, compared to 579 for the first quarter of 2022. A 14.3% increase in net locations is no small feat and should, by all means, be taken as a bullish viewpoint. During a year when inflation rose to multi-decade highs, consumers could still shop at Lululemon; whether it is because value beats prices or whether quality beats competitors is up to the marketplace to decide. Bears will still find a critique in that the company only focuses on brick-and-mortar sales, though management is glad to turn these objections on its head.
E-commerce sales grew by 16% on a constant dollar basis, or 13% after inflation's effects. Other names like Macy's (NYSE: M), which had dominated the space for many years before Lululemon hit the market, only derive about a third of total revenue from digital sales channels. Lululemon's digital sales accounted for 47.9% of total income; a year ago, these figures were only 45.3%. As demand continues to grow for the company, aided by a robust product mix allowing for inventory flexibility and adaptability, gross margins for the business increased to 57.5% from 2022's 53.9%.
Further Upside
Considering that Lululemon's financials reflect a 24% increase in inventories, a foundation lays out for a scenario where momentum keeps pushing. On top of the expansionary activity showcased through new store openings and increased inventory are some developments that bulls can lean on. Operating margins, a direct measure of management effectiveness in underlying operations, grew to 20.1% from 2022's 16.1%. Return on equity finished the quarter at 8.7% compared to 7.1% a year prior, a direct benefit to shareholders.
Shareholder returns came from more than just core operations in the company. As a magnificent year allowed for $45.5 million in operating cash flows, capital returned to shareholders also increased. A total of 300,000 shares were retired off the open market, representing a total cash value returned of $98.1 million. 
Management states that these shares were repurchased at an average price of $336.7, higher than the closing price on Thursday. Investors may have missed the first warning as the stock broke out after earnings. However, many can still acquire the stock at a reasonable premium to what insiders paid. 
Executives are not the only ones to think that the stock is cheaper rather than not, as Lululemon's analyst ratings point to a 23% upside from the closing prices of Thursday evening. In addition, good metrics make it possible for the topside price target of $542 to become the new norm. If these evidential facts were insufficient to write a check, management outlooks might do it. Expectations for full-year 2023 earnings per share of $11.74 to $11.94 would place the stock on a 26.0x to 27.0x price-to-earnings multiple, where earnings are those of the expected next twelve months. 
Historically, Lululemon stock has traded between 28.0x to 46.0x multiples of the next twelve months' earnings, placing today's valuation at a significant discount to where the stock price could go.