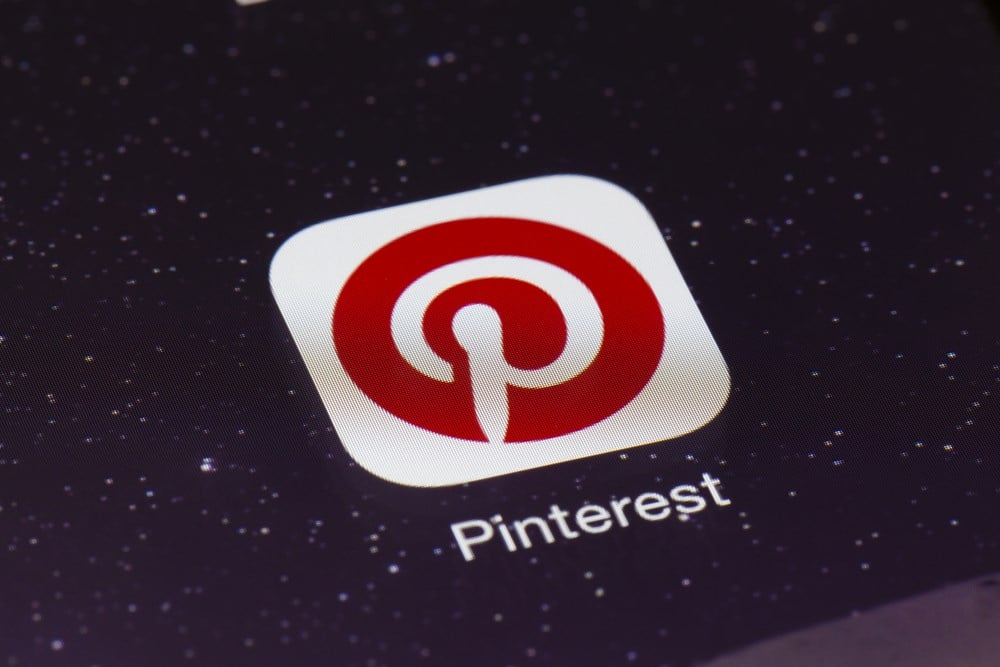 Social commerce platform Pinterest Inc. (NASDAQ: PINS) stock collapsed (25%) after its Q1 2023 earnings report. Shares have fallen (8.2%) for the year. While the company is still growing, there are growing concerns over its pace of growth and rising costs and opex, which can have more negative impacts on its margins. The company has been restructuring since the arrival of its new CEO, Bill Ready, who was the President of Commerce at Alphabet Inc. (NASDAQ: GOOGL)
Google subsidiary and a former COO of PayPal Holdings Inc. (NASDAQ: PYPL) in June 2022. Pinterest competes with other social media platforms, including Meta Platform Inc. (NASDAQ: META), Facebook, Google and Snap Inc. (NASDAQ: SNAP), but is more concentrated as a social commerce platform for users go to get lifestyle ideas with the intent to purchase rather than socialize.   \
Mobile App Growth and Engagement Continue
Mobile app users are the most critical users generating over 80% of the total impressions. Mobile app users grew by 7% YoY in the U.S. and Canada in Q1 2023. This drove Mobile user revenue growth by 16% YoY in the quarter. Video content on the platform exploded by 40% quarter-over-quarter (QoQ).
Pinterest increased ad impressions by over 30% in the quarter, while cost-per-action (CPAs) fell by (8%) for performance advertisers. Gen-Z was its fastest-growing demographic in the quarter, up double-digit rates YoY. Its investments in bolstering relevance and personalization have been user reactivation engines.
Optimizing Ad Performance
Pinterest continues to improve its advertising efficiency and performance while lowering costs for advertisers. The company made a deal with one of the largest U.S. publishers, Dotdash Meredith, to bring video content from various brands, including Better Homes and Gardens, Food and Wine, Brides and All Recipes, to the platform across fashion, food and lifestyle categories.
Pinterest started testing its Premiere Spotlight, its first premium brand awareness service that showcases brands like The Coca-Cola Company (NYSE: KO) with exclusive placements on its search page for 24 hours. Premiere Spotlight is driving effective click-through rates compared to standard video ads. It also closed a deal for Amazon.com Inc. (NASDAQ: AMZN) to become its first third-party demand partner.
From GAAP Profits to GAAP Losses
On April 27, 2023, Pinterest released its fiscal first-quarter 2023 results for the quarter ending March 2023. The company reported an adjusted earnings-per-share (EPS) profit of $0.08, excluding non-recurring items, versus consensus analyst estimates of $0.02, beating estimates by $0.06. GAAP net income fell from $17 million in the previous quarter, Q4 2022, to ($209 million) in Q1 2023, primarily due to restricting costs. Revenues rose 4.8% YoY to $602.58 million, beating analyst estimates of $592.6 million. Global MAUs grew 7% YoY to 463 million.
Global average revenue per user (ARPU) fell (1%) to $1.32. Adjusted EBITDA fell (65%) YoY to $26.97 million. Pinterest bought 2.8 million shares for $72 million in the quarter, leaving an additional $428 million remaining stock buyback funds stemming from its $500 stock buyback authorization. The company expects Q2 revenue to grow at the same rate from Q4 2022 to Q1 2023. Non-GAAP operating expenses are expected to grow in the low teens on a QoQ basis, implying more margin compression.
CEO Insights
Pinterest CEO Bill Ready touched on the four key strategic priorities. They are to grow monetization and engagement per user, integrate shopping into the core product experience, margin expansion and continue strengthening leadership as a positive and brand-safe platform. It has seen a 30% rise in attributed checkouts for merchants that uploaded their catalogs onto the platform. The company also cut 4% of its workforce in February.
Pinterest now requires entering a birth date to provide age-appropriate functionality, making it a private site for users 16 years and younger. He concluded, "Our investments in being a positive platform also make good business sense. As advertisers often side our positivity and brand-safe environment as a reason for spending on the platform."
Multiple Analyst Actions
On April 28, 2023, there were eight analyst reiterations for PINS stock. UBS reiterates its Buy rating dropping its price target to $34 from $35. Robert W. Baird reiterated its Outperform rating dropping its price target from $31 to $30. Morgan Stanley reiterated its Equal-Weight rating dropping its price target to $22 from $21.
Rosenblatt reiterated its Neutral rating raising its price target to $27 from $26. Credit Suisse reiterated its Neutral target lowering its price target to $28 from $29. RBC Capital reiterated its Sector Perform rating and dropped the price target to $28 from $30. JP Morgan reiterated its Neutral rating with a $26 price target from $27.
Bernstein reiterated its Market Perform rating and made a significant price target reduction to $23 from $28. You can find Pinterest analyst ratings and price targets on MarketBeat.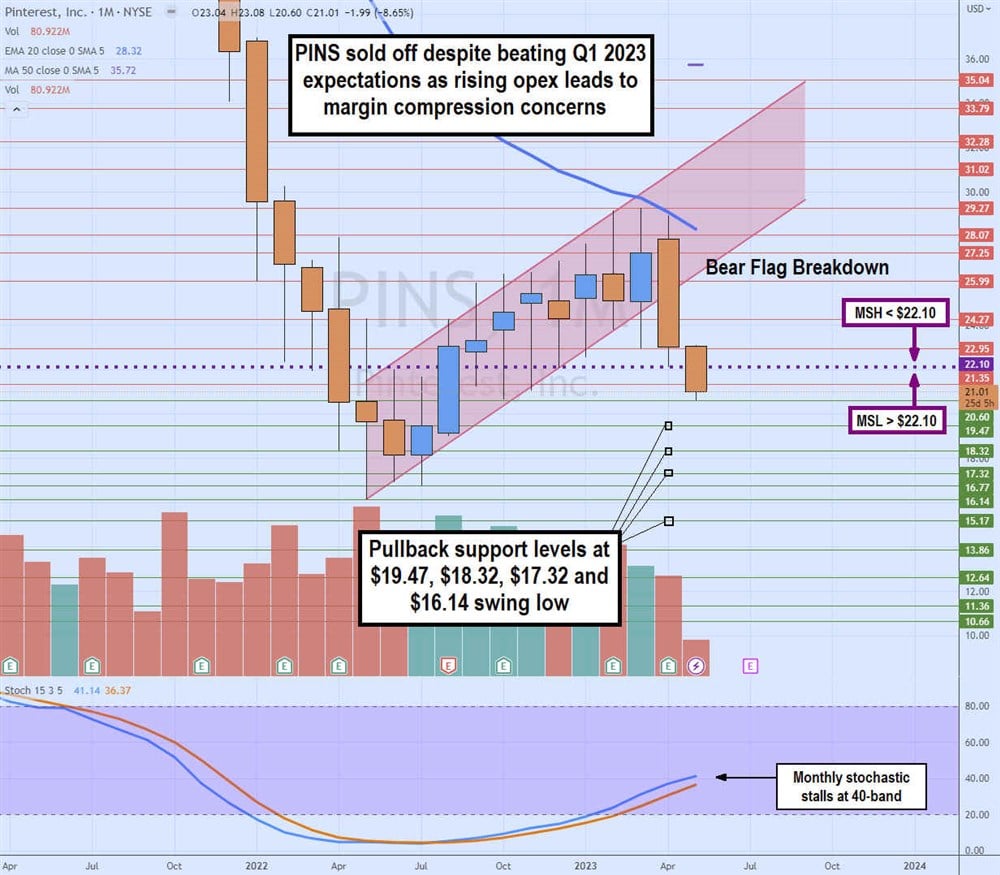 Monthly Bear Flag
PINS was in a monthly rising price channel that commenced after forming a bottom at $16.14 in May 2022. PINS triggered a monthly market structure low (MSL) on the breakout through $22.10, staging a rally with higher highs and higher lows, reaching a high of $29.27 by March 2023. It formed a monthly market structure high (MSH) on a breakdown through $22.10, which triggered the May 2023 candle after its Q1 2023 earnings release.
The monthly stochastic bounce is stalling near the 40-band. The breakdown through the lower trendline at $25.43 in April 2023 triggered the monthly bear flag. PINS has the rare distinction of having a monthly market structure low (MSL) buy trigger above and a monthly market structure high (MSH) sell trigger below $22.10, the overlapping line in the sand. Pullback support levels are at $19.47, $18.32, $17.32 and $16.14 swing low.