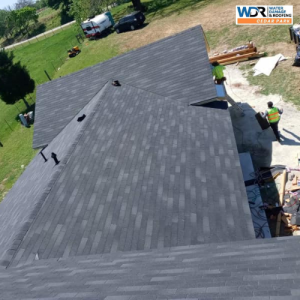 Cedar Park, Texas — Water Damage and Roofing of Cedar Park is committed to delivering excellence at every stage throughout the roofing service process. With the experience, skilled team, and commitment to customers, they take time to ensure every need is met when it comes to comprehensive and complete roof repair.
This team is committed to listening to customers and truly understanding their needs to help them receive custom and timely roof repairs. That's the goal every day.
Water Damage and Roofing of Cedar Park is a top-rated company with the Better Business Bureau, has zero complaints from customers across Texas, and maintains an A+ rating.
When it comes to restoring and repairing one of the most important and crucial pieces of any home, Water Damage and Roofing of Cedar Park can help protect that investment.
Roof Repair
Having a roof over our heads provides peace of mind that is hard to match. It may seem like an afterthought on most days, and many homeowners go years without checking to ensure their roof is in proper condition.
Long-term roofing problems can lead to major headaches and serious damage to other parts of a home. Leaving roofing problems untreated can ultimately cost a considerable amount of money to fix. That's why addressing roofing problems the moment they arise is key to ensuring the entire home is always protected.
Water Damage and Roofing of Cedar Park provides a complete range of roofing repair services, including performing inspections, providing estimates, and repairing hail damage, and water damage.
Water Damage
Water damage can make it dangerous to live in or occupy a space, especially if it isn't treated quickly. Failing to address water damage can result in dangerous mold and life-threatening allergies and disease. But not all water damage is the same, and it takes an expert who knows how to identify and classify the water damage to ensure the proper roofing repairs are made. The skilled experts at Water Damage and Roofing of Cedar Park know how to classify water damage and design a plan to repair the problem effectively and efficiently.
Emergency Leak Repair
Water Damage and Roofing of Cedar Park – Roof Repair knows not all problems happen at the most convenient times. A leaking roof can pop up at any moment, and if it isn't addressed quickly, big problems could arise.
Whether severe weather, strong winds, or faulty shingles are to blame, rain should never leak into a home. The skilled team at Water Damage and Roofing of Cedar Park can provide immediate repairs to remove the water and dry the space, so there's no waiting to fix a leaky roof.
Available 24/7 emergency for roof damage repair, an experienced contractor can be sent out any time of day to stop the problem, providing the best roof repair Cedar Park has to offer.
Trusted Roofing Services
Water Damage and Roofing of Cedar Park are the most trusted local roofers, providing the highest quality service. From slate tiles, ceramic, wood shakes, asphalt shingles, steel roofing, and complete roofing repair, they deliver building and construction solutions to 100% satisfaction.
Certified Experts
Our roofers are certified with years in the industry, allowing them to offer advice and insight when working on any roofing repair project. The professional commercial and residential roofers are fully certified and provide services that range from installing metal roofs on commercial property to shingle repair on residential homes.
More Information
Water Damage and Roofing of Cedar Park can provide protection and complete all slate and glass roofs to ensure any home has the best curb appeal and is protected against wind and hail. For more information, visit Water Damage and Roofing of Cedar Park at https://cedarparkroofingandwaterdamage.com/.
Source: https://thenewsfront.com/water-damage-and-roofing-of-cedar-now-offers-roof-repair-services/
About Water Damage and Roofing of Cedar Park
Water Damage and Roofing of Cedar Park has the experience, the team and the commitment to deliver excellence at every stage of our roofing service.
Contact Water Damage and Roofing of Cedar Park
305 Spanish Mustang Dr
Cedar Park
TX 78613
United States
(512) 566-5510
Website: https://cedarparkroofingandwaterdamage.com/