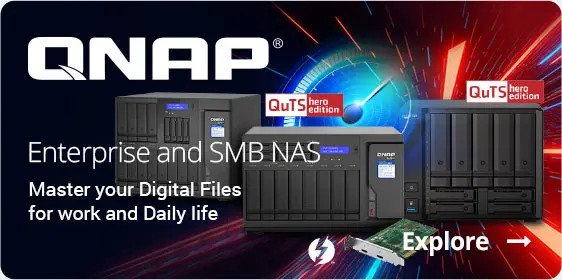 Organizations and end users today are creating more data than ever, and with the explosion of data comes the problem of managing, storing and protecting it. PNP seeks to solve these problems for businesses of all sizes. PNP is a IT distributor based in Dubai, UAE, offering data storage and protection solutions based on tape, disk and flash.
Flash-based NAS storage for fast access
PNP offers flash-based storage based on QNAP and Synology network attached storage with integrated SSDs from Seagate, WD, Kingston or Exascend. ALL U.2-based flash arrays with 10G network connectivity are most popular with large data centers and enterprises. Flash based Data Storage is the fastest storage today with low latency, high IOPS and high transfer rates.
Hard disk-based NAS storage for archiving
QNAP and Synology solutions can also be built with hard drives from Seagate, WD or Toshiba and have a lower cost per TB compared to flash-based storage. Today, the majority of the NAS storage market remains disk-based
Tape backup for true ransomware protection
Storage and backups are always online, which means they are vulnerable to a network-wide attack. The only true solution that is 100% protected against ransomware is an air gapped tape backup, where the tape is removed as soon as the backup is complete. Tape backups are the most cost-effective way to protect against ransomware attacks today. PNP offers LTO Ultrium and RDX Cartridges based solutions .
Visit the company's website at www.pnpdxb.com for a comprehensive catalog of secure storage devices and backup services.
Media Contact
Company Name: PNP
Contact Person: Akash Jain
Email: Send Email
City: Dubai
Country: United Arab Emirates
Website: www.pnpdxb.com